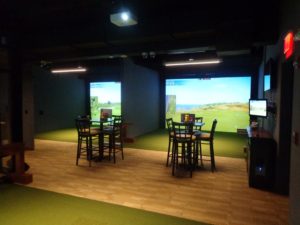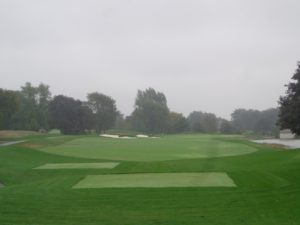 GET READY IN HERE, SO YOUR READY OUT HERE. The Schaumburg Golf Club will have nine newly renovated holes open in mid-summer, so be ready to play them and the Players nine that opened last summer, by hitting the simulators now. You can play this weeks PGA Tour stop TPC Sawgrass today. Would you hit the green or would you put two shots in the drink like Tiger Woods. Schaumburggolf.com or call (847)-885-9000 ______________________________________________________________________
TOUR EDGE GOLF, for Chicago golfers they are right down the street, as in Batavia in the western suburbs.
So they know what Chicago golfers like, they know how the weather plays in the windy city, and they are doing it right because the company is taking off in the right direction.
Behind company founder and President David Glod, Tour Edge is producing some solid golf clubs, and their impact is being felt all the way to the PGA Champions Tour.
Six Champions Tour players has signed deals to be Tour Edge staff players, and the players are not fringe players on the tour.
One of the hottest players on the champions tour in the last few years is Scott McCarron, and what's now in his golf bag on tour, if you answered Tour Edge you guessed right.
McCarron is not alone, he is joined by Tom Lehman, Rocco Mediate, Duffy Waldorf and a few others. Along the Champions Tour there are a few other players that have a few Tour Edge Clubs in the bag, other players from the PGA Tour are finding room in the bag for a club or more from Tour Edge as well.
The Tour Exotics line was launched 12 years ago, and they have come a long way. The workmanship that goes into an Exotic Club is among the highest quality of any clubs in the sport. In the past 12 years, as the design process and materials available improve, so do Exotics.
Click here to hear our interview with Tour Edge Company Founder and President David Glod, and find out more about Tour Edge golf clubs, and what's making them such an impact player on the PGA Champions Tour.
The EXS Tour Edge Driver,comes with carbon fiber toe, that allows weight to be re-positioned lower and towards the rear of the head which allows for extremely high MOI.
The Slipstream Sole, with wider speed channels to create a faster club head speed.
The club has options with a FTS (Flight Tuning System), that allows for adjustable sole weights .
Dual Carbon Technology that allows for the carbon fiber crown and toe to provide extreme weight savings, that gets pushed back in the head to maximize MOI.
Tour Edge does not stop with just EXS Drivers, there are EXS fairway woods and hybrids. Need more, how about the long hitting EXS Tungsten Irons, that Glod calls "silly long" and EXS wedges in a variety of lofts.
To learn more about Tour Edge clubs and other Tour Edge lines and products, please visit Touredge.com or call (800)-515-3343.