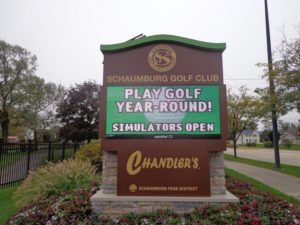 THE SCHAUMBURG GOLF CLUB has it's simulators open for year round golf. You can play TPC Sawgrass home of this weeks Players Championship, island green 17, some pro's splash, do you have that shot-find out. Schaumburggolfclub.com (847)-885-0000.  _____________________________________________________________________
THE WARM UP IS COMING…I'm so ready and so are many other people, especially golfers. Upper 40's on Tuesday, 50's on Wednesday, and 60's on Thursday, then a drop off. But maybe most of the remaining snow piles can melt off, wouldn't that be wonderful.
It will still be a few weeks before our courses thaw-out, and they can open for the season. But with a a few more warm days, maybe by around the first of April, most of them can open for the season. No joke…
I have talked all winter long about putting some new clubs in your bag. I started the process of flipping the bag, when my new Callaway Mack-Daddy 4's arrived.
It's a great feeling to come and find the big box next to your door, instead of just bills in the mailbox. I'll go hit them this week in the Mistwood Golf Dome, and see if I get some spin. It's been awful the last few years to repeatedly waste scoring opportunities by having bad wedges, THAT is about to change in 2019. Time to lower the handicap back into single digits.
If you haven't already done so, get fitted. Even if you don't buy clubs right away get your numbers dialed in, so when the time comes, you'll know what buy. If your waiting for the right sale, be ready when it comes along. I know it's tough these day to buy a full set of clubs all at once, it gets pricey. But analyze what part of your game is hurting the most, and replace those clubs. No distance off the tee, get some new top grade golf balls and a new driver, and see what happens. Can't get out of bunkers or the rough around the green, new wedges. Not making putts, try a new putter. Lessons are ALWAYS a great idea, but it never hurts to put the best club you can in your hands. Or at least take the wrong clubs out of your hands, by taking them out of your bag. Do start the year with a few dozen new balls that didn't sit in the garage all winter long.
Outside of clubs, new comfortable golf shoes, a new golf bag, a new towel, a new shirt, slacks, shorts or a hat, add to you looking sharp on the course and at the 19th hole, or the short game area. Where to get fitted, there are plenty of places now in the area, the Mistwood Golf Dome is a great place and Top 100 location in America per Golf Digest. Custom fitting locations such as Club Champion, True Spec, and the PGA Tour Stores are among the other good locations. Watch for demo days in the area, they are great options as well.
I hope you have enjoyed our run of stories from our trip to the PGA Merchandise Show, and down to and back from Orlando. I do expect to finish up the content over the course of this week.
IN THE WEEK AHEAD…my interview with former Chicago Bears Kicker Robbie Gould, on his company EventLIFY, if your running an outing and want to maximize it's potential check in with EventLIFY.
I WILL ANNOUNCE THE DETAILS of the return of Golfers on Golf Radio that starts this month, yes a new start date, stay clicked or dialed in.
A CONGRATULATIONS to our IPGA Section award winners for 2018, they will be awarded tonight in a special awards ceremony. Special Kudo's to IPGA Section professional of the year, Chris Gumbach of River Forest Country Club in Elmhurst.
FINALLY…I was disappointed to hear that longtime friend and golf architect Keith Foster got sentenced to 30 days in a federal prison, for illegally importing certain protected animal items into the country. His golf business was never under suspicion from the government, but the charges and guilty plea have cost him work at several of the nations top clubs which is sad to hear. Some of the clubs that cut ties with him, would not be on the map if Foster's renovation work had not brought them back into the eye of the golf world, and helped them get Top 100 ratings, top level professional and amateur championships and increases in memberships. I'll have more on this topic in the days ahead.
The Gog Blog returns with Robbie Gould and a story on his golf company tomorrow, stay tuned. RS