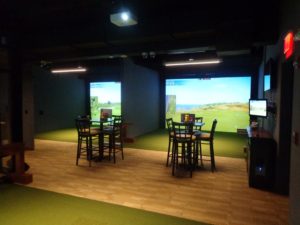 THE SIMULATOR BAYS AT THE SCHAUMBURG GOLF CLUB do include this coming weeks TPC Sawgrass home of the Players Championship. How would you fare on the famed par 3, Island Green 17th hole. You can find out while teeing it up this week at the Schaumburg Golf 401 Roselle Road. Schaumburggolf.com or (847)-885-9000. #TPC     ___________________________________________________________________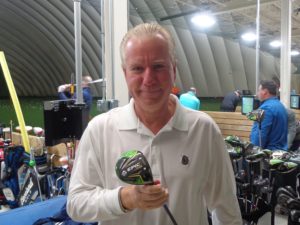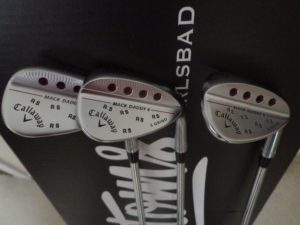 THE GOG BLOG by RORY SPEARS, Director of Content and Creation. Follow Rory @GogBlogGuy on Twitter, Linkedin or Facebook. In the Mistwood Golf Dome #Flash
SOME FINAL NOTES on clubs and merchandise coming from the PGA Merchandise Show and since then by a few name companies.
Now available as of this past March 1st, XXIO Prime Woods, Hyrbrids and Irons, for distance and accuracy for golfers with a slower swing speed.
"XXIO Prime is , quite frankly, the most unique and beneficial product ever available to moderate swing speed players," Chuck Thiry, Vice President of XXIO USA. "People might think it's marketing hype, but they simply haven't hit Prime yet."
The new XXIO Prime Woods has a newly designed hosel structure that makes it easier for moderate swing speed players to shut the drivers face at impact, that will result in longer and straighter drives. The new XXIO's are lighter, that makes them faster and easier to swing. It's lightweight power for players who need it says Thiry. The new XXIO Irons have an expanded Titanium face, with a CNC milled Speed grove, that provides increased ball speed and a straighter ball flight.
Now available prices range from (MAP) $259 for a single graphite iron, $379 for Prime Hybrids, $579 for Prime fairway woods, and $849 for the new Prime Driver, details can be found at XXIO and Cleveland Golf website's.
The new Srixon Z-Star XV and Z-Star and now available since February.
The Z-Star XV distance golf ball is used by PGA Tour driving distance leader Cameron Champ, who says" the ball gives me a chance to compete week-in and week-out, with it's exceptional ball speed."
The Z-Star XV is the sixth generation model of the Z-Star series, and now comes equipped with a FastLayer Core, a core that starts soft in the center and gets firmer around the edge. This design adds speed for distance, and feels softer at impact. The addition of Spin Skin with SeRM is a coating that helps sit deeper in wedge and iron grooves for better spins and stopping ability. The new 338 dimple pattern allows for less resistance and more lift to increase distance. the MAP is $39.99 a dozen. More information at Srixon.com
MIZUNO for the first time has introduced two new tour-caliber golf balls, the RB Tour Ball and the RB Tour X. Mizuno has taken it's Shaft Optimizer to a new level to help put golfers into irons that are right for them. The key is a new Gyro that adds to existing strain gauges, that can recommend lie angles from a digital standpoint instead of old methods like using tape and strike boards.
The new golf balls both have high greenside spin, and are a 4-piece ball with 360 dimples and Urethane covers, with a soft compression. More information see Mizunousa.com.
The new Titleist Players Stand Bag and Hybrid Collection golf bags are now available starting at $200, with customization available on all bags.
The Players 4 StaDry is 14% lighter than it's predecessor, and includes 25% increase in strap padding for extra comfort while carrying, and has increased storage options.
Options include the Players 4 Plus, the Players 4, the Hyrbid 14 stand bag meets cart bag- starting at $240, The Hybrid 5 called a smooth ride and is designed for a cart-friendly ride. More details at Titleist.com/golf-gear/golf-bags
Now available as of March 1st, are the Titleist new 718 AP 3 and AP 2 Irons.
The iron sets are finished in a, High Polish Black PVD coating to create a standout appearance.
The True-Temper AMY Onyx shafts with a coal coat matte black finish helps reduce glare, and the clubs have all-black Golf Pride Tour Velvet 360 grip.
The addition of these models came from Titleist staff players on the PGA Tour, and they will wear similar to the Jet Black coating on SM7 wedges. Details at Titleist.com/golf-clubs/irons/718-ap-black.
The new Scotty Cameron Phantom X line of nine new putters will arrive in golf shops and retail stores on April 12th.
The Phantom X family is a group of nine new mallet putters that Scotty feels will take putting performance to a new level.
The Phantom X series will replace the Futura Family, but Scotty will continue to combine the 303 stainless steel, and the 6061 aircraft-grade aluminium for an increased MOI, optimal weight distribution and a better sound.
Scotty says that," Phantom X is by far the most high tech putter line we've designed to date. This product is so much faster looking, and taken to the next level, that it needed a new name. It's a major leap in performance. We've designed a variety of flange set up's, alignment options and shaft bends to offer mallet players more models to choose from. I was inspired by tour players who wanted slightly smaller profiles with more alignment options and solid face construction.
The nine new models are: Phantom X5, Phantom X 5.5, Phantom X6, Phantom X 6STR, Phantom X7, Phantom X 7.5, Phantom X8, Phantom X8.5, Phantom X12, more information at Titleist.com or Scottycameron.com.
NOW AVAILABLE from Scotty Cameron is the new Select Fastback, that adds to the line of mid-mallet models of the Select Line. Which came from suggestions of top tour players. The two new models are the Select Fastback 2, and the Select fastback 1.5.
The feedback Scotty received from tour players had them asking for more prototype necks. With more moving towards smaller compact style heads, that are not blades and not mallets. So Scotty is calling them mid-mallets. The fastback 2 has a plumbing neck with the 1.5 coming with a mini-slant neck. The putters coming with mid-sized Black and Silver Matador grips. The double milled three-Cherry dots are smaller in size. MAP is suggested at $399. More at Scottycameron.com.
The Gog Blog Speaks Out-Returns on Monday. RS