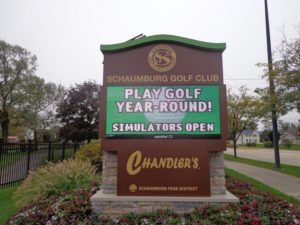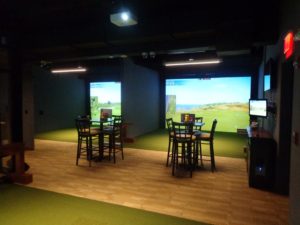 The Schaumburg Golf Club on Roselle Road in Schaumburg already has it's 2019 golf season underway. It's still indoors downstairs in the simulator bays, but you can play one of several Top 100 courses, or Ryder Cup venues. Call (847)-885-9000 #teetime.     _____________________________________________________________________
When you hear it's all about the short game, the first swing you take before you "putt for dough" is quite often made with your wedges.
The Pitching Wedge, the Gap Wedge, the Sand Wedge or the Lob Wedge, often found in degree intervals of 48-52-56 or 60, with minor variations available to all of the above.
The new look in wedges started at the PGA Merchandise Show in Orlando 6 weeks back. What's on the market now in wedges is more amazing than ever before. Even higher handicappers are getting their ball out of bunkers, out of the rough, off the tight-lie in the fairway, and getting shots to spin and stop on the green. Leaving that putt for dough a little shorter than it has been in recent summers.
Miura golf has just announced the release of it's new K-Grind 2.0 wedge. The K-Grind follows a 1957 original K-Grind, but the new 2.0 features a knuckled sole, from milling techniques that look and feel.
While the Miura craftsman worked to maintain the integrity of the original design, they added the feature of the knuckles that adds playability through every type of turf.
The new face of the K-Grind 2.0 now comes with a fully milled club face that should increase spin from all varieties of shots.
Hand-forged in Himeji, Japan, using Miura's time-honored 14 step manufacturing process, the wedge comes in five lofts from 52-60 degrees. You can also custom design your new K-Grind 2.0 wedge with one of 19 types of shafts, and 14 styles of grips.
The new wedge comes on the creation of the new CB-301 Mirua Line of Cavity Back Irons, Miura says the new CB-301 line is the longest distance Iron that Miura has created, and the first cavity back Iron since the PP9003 in 2011. For more information on Miura clubs please visit www.Miuragolf.com.
The Wizard of Wedges Bob Vokey did not let this years PGA Merchandise Show go by without adding to his line of wedges.
For 2019 Vokey had added to his of Titleist SM7 wedges, a new finish that has his wedges now available in a Slate Blue Finish.
The new finish give players an option to look down at the club and have no concerns about reflection or glare. These wedges are now available in shops or golf retail stores.
"Very often wedge finishes look great, but they don't last," Vokey said. " At the same time the most durable finishes often aren't stunning. Slate Blue combines the two and the finish will last."
Click here to hear the interview with Titleist Director of Wedge Relations Aaron Dill talk about Titleist Vokey Wedges.
The Blue Slate wedges are available in all 23 loft, bounce and grind options, and in RH-LH options. Cost $199.00 MAP.
Callaway Golf that has been on the move in all area's over the last few years, has new wedges out for 2019 as well.
Maybe lost a little with all the press the outstanding new Flash Driver and fairway metals have received, are the new PM Wedges.
PM in case you didn't pickup on it stands for "lefty" Phil Mickelson. To learn more see Callawaygolf.com or check our interview with Roger Cleveland below.
Click here to hear the interview with Roger Cleveland on the new Callaway wedges.
BEN HOGAN GOLF EQUIPMENT COMPANY has announced the addition of it's line of Equalizer BLACK Wedges, that feature a Black Diamond Metal Finish. That is an addition to the line launched one-year ago, and the Black Metal is up to 7 times more durable than nickel chrome.
With golfers repeatedly asking for lofts other than 52-56-60, changes were made and the Equalizer line has expanded. Another thing that golfers will love is the price which starts at $105 for either steel or graphite. With new milled features on the face and grooves, the wedges have maximum spin and stopping ability.
The longtime feature of Hogan wedges has included V-Sole Technology, which has been enhanced with a new sole geometry to fit a wider range of golfers and course conditions. This addition comes with input from tour players and should improve shots from deep round and tight fairways.
All Hogan Black Equalizer wedges come in the following options, GAP 48-50-52 degrees. Sand Wedges in 54-56-58 degrees and Lob Wedges in 60-62 degrees. For more information or to purchase the wedges see BenHoganGolf.com.