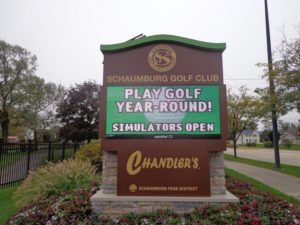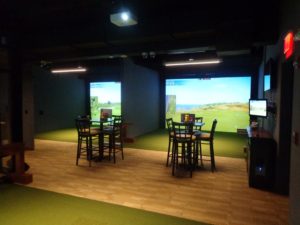 IT'S YEAR ROUND GOLF at the Schaumburg Golf Club in the simulator bays on the lower level of the clubhouse. You can play several Top 100 golf courses and both the 2018 and 2020 Ryder Cup venues. Have Ryder Cup style match's with the members of your favorite foursome, and have your game in shape when in less than 60 days it's time to go back outside. Book your tee time at Schaumburggolf.com or (847)-885-9000.  ______________________________________________________________________
The spring slate of the college golf season kicks into gear with start of the Men's Big Ten Match Play Golf Championship.
The matches return to two courses on the Northeast coast of Florida. Hammock Beach Resort that has two golf courses, the Ocean Course by Jack Nicklaus and the Conservatory Course designed by Tom Watson.
The Ocean Course reopened over a year ago, after being shutdown for a long renovated, after hurricane Matthew flooded the course with salt water that killed the grass. Jack Nicklaus and the Nicklaus design team renovated the course, and the Ocean Course has never looked better. The Conservatory Course survived the hurricane and the golf course that Watson designed, and made 17 site visits to while under construction is also ready for the championship. both courses play to a yardage of over 7,000 yards, but the Conservatory is longer at 7,706 while the Ocean Course is 7,201.
This year, all 14 Big Ten schools will participate, and in the first round, the top two seeds will have bye's. Those schools are the top seeded Fighting Illini, and the second seeded Northwestern Wildcats.
"This event is very important to our team as we continue to evaluate our development," said Illinois coach mike Small."We want all of our players to grow as individuals so they are all clicking come championship time. With a match play format this week it is important to start the process. Match play exposes different strengths and weaknesses in a players game. This week should show what they are."
Matches begin at 7 AM CST on Friday morning, as teams enter into a single elimination format. The championship matches will be played at 12:30 CST on Saturday afternoon.
Live scoring can be found at BirdieFire. Illinois recaps will be posted after the days action is complete at Fightingillini.com.