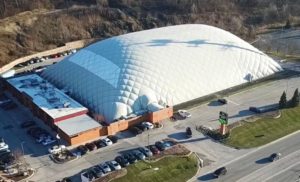 THE MISTWOOD GOLF DOME on Rt. 53 in Bolingbrook is your home for winter golf, and the home of Toptracer technology. Come and see what has golfers flocking to the premier indoor golf experience in the Chicago area. Coming up on Feb. 16th you can come to the dome and hit, or get fitted for the new Callaway Epic Flash Driver. AT THE ARLINGTON LAKES GOLF COURSE on Wilke Road, it's time to get signed up for the season ahead, outings permanent tee times, or other events says head professional Tim Govern. See AHPD.org or call the course at (847)-577-3030 #3holeloop #6holeloop ______________________________________________________________________
IT MIGHT BE OVER ONE YEAR AWAY but the preparations for the 2020 Ryder Cup matches are underway.
Whistling Straits part of the Kohler and the American Club Destination Resort will be the host for the matches, that were most recently won by Team Europe in Paris France.
Whistling Straits designed by Hall of Fame designer and architect Pete Dye, has previously hosted three PGA Championships in 2004, 2010, and 2015, none of which were won by American players.
Ryder Cup 2020 has now opened the volunteer process for the matches. The registration runs through 11:59 PM on March 1st, of 2019.
The 2020 Ryder Cup is requesting 4,000 volunteers for championship week. The volunteers are needed for both on and off the golf course positions.
If you worked as a volunteer for the 2015 PGA Championship at Whistling Straits, you should have by now received an email extending you an invitation to be a volunteer and being able to skip the open registration process.
Click here to hear the interview with 2020 Ryder Cup Championship Director Jason Mengel, on the volunteer process, and other 2020 Ryder Cup news.
Volunteers must be 21 years of age or older, and should be able to work at least four 4-hour shifts during championship week. Those volunteers that are selected, will have to pay a volunteer fee, in exchange for the Ryder Cup volunteer uniform by Ralph Lauren, parking, food, beverages and a credential good for all six days of championship week.
The 2022 Ryder Cup will be contested in Rome, before back to the United States in 2024, and will be played at the site of this years PGA Championship, Bethpage State Park, on the Black Course, located on Long Island in New York.
For more information tickets and other Ryder Cup news, see RyderCup.com.