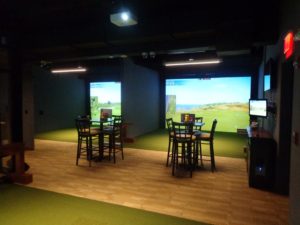 THE SIMULATOR BAYS at the Schaumburg Golf Club are open for play all winter long, come enjoy this weeks PGA Tour venue TPC Scottsdale on the right, and the crazy par 3,16th hole (shown without the stands) as you try to hit it close, and avoid the boo's from your foursome if you miss the green. See Schaumburggolf.com or (847)-885-9000 ______________________________________________________________________
IT'S BACK…the PGA Show Podcast with members of the Big 3 of Chicago golf media group, Len Ziehm and the host of Golfers on Golf, yours truly Rory Spears.
With a few days to reflect on what we saw in Orlando, we break down the show and who were the winners and who was not not.
Did TaylorMade make a major mistake by not coming to the show, did they just get passed over by the other major players in the golf equipment business. Which Chicago companies hit it big on the equipment side, what shoe companies are on the move.
Click here to hear the Len Ziehm and Rory Spears Podcast and review of the demo day and convention center from the PGA Show.
Len and Rory will return with Part 2, a preview of the 2019 golf season in the Chicago area. So stay clicked in. The podcast was recorded in the Lenziehmongolf.com studios in Port St. Lucie Florida.