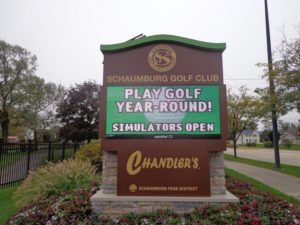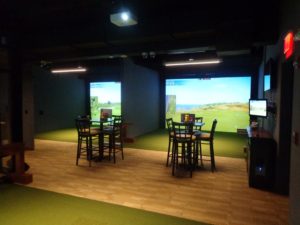 THE SCHAUMBURG GOLF CLUB at 401 N. Roselle Road is located just minutes from Woodfield Mall. The clubs new simulator bays have been updated with several now courses, including the 2018 and 2020 Ryder Cup Venues. While golfing all season long you can enjoy the best in food and beverage from Chandlers Chop House right upstairs, visit Schaumburggolf.com or call the club for tee-times at (847)-885-9000 #wintergolf .    ______________________________________________________________________
As the demand in golf and in the Chicago area grows by golfers to be put into fitted clubs, Club Champion a major club fitting and building is opening it's newest location in the days ahead.
Club Champion is located on the Northside of Golf Road in the Copley Shopping Plaza at 152 E. Golf Road. In the corner of the plaza.
The new location has near 3,000 square feet of space, more than enough room to to put golfers through the highly regarded fitting experience of Club Champion. That experience has 35,000 hittable clubhead and shaft combinations. The new Schaumburg studio has two hitting bays, with Trackman launch monitors, a SAM PuttLab fitting system so golfers can get the putter that's right for them, and test it on the in studio putting green. The facility has a build shop to create and or repair golf clubs by hand.
"We are excited to bring the finest club fitting operation to Schaumburg," said Joe Lee, CEO and President of Club Champion. "Our approach is unbiased, with no promotion of any specific vendors. Our only goal is to find the best combination of components to help the customers hit longer and more accurate shots, and lower their scores and enjoy the game more."
Golf Digest has given Club Champion their Top 100 Best Club Fitters award for nine straight years. The Club Champion fitting team consists of experienced fitters before joining the company, then upon hire, must undergo an 150 hours of additional training before working with customers. Which is unmatched in the industry.
Club Champions unique coupling system allows for fitting any shaft and head together, so golfers receive exactly the combination of product they need for a perfect set of clubs to fit their game.
Golfers can hit the exact club they will get before the purchase is made.
"Our unrivaled fitters and demo option generate unmatched results. A recent Golf Magazine study showed our average customer gained 22 yards off the tee, and 15 yards with their irons and lowered their average score by three shots," said Lee. "Many players think they are not good enough to be custom fit. But the study showed that higher-handicappers saw the biggest gains. Some of these golfers gained as much as 25 more yards with their drivers and shaved as many as 10 shots per round off their scores."
To celebrate the Schaumburg Store opening, expected this month and managed by Alex Praeger. The Schaumburg store will offer 50% off full bag fittings, normally $350 for only $175. Or 33% off driver, fairway wood, and long game, hybrid, wedge and putter fittings. Hours are 10 AM to 6 PM Monday-Thursday. Friday and Saturday 9-5 PM. For more information on Club Champion see clubchampiongolf.com or call (888)-340-7820.