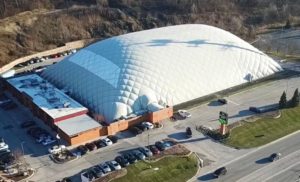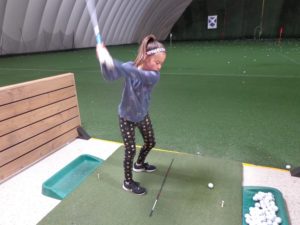 THE MISTWOOD GOLF DOME located on Rt. 53 in Bolingbrook, is now open daily until 10 PM. The Chicago area's premier golf dome has upgraded it's food and beverage operation with the launch of McWethy's Sports bar alongside of the OTB. Go visit Mistwoodgolfdome.com or call the dome at (630)-739-7600 #clubfittingspecialnow
Click here to hear Jeff Copeland talk about his 10 year old daughter Lisa Copeland (R) and how she made it to the finals of Drive, Chip and Putt and earned a trip to Augusta National on the front of Masters week, by working with Mistwood pro's since she was 5.  ______________________________________________________________________
GOLF COVERAGE takes a drive up the fairway this week, with the launch of Global Golf Post PLUS. But you can bet that if there is a story to be told, GGP+ will beat the bushes with a club if they must, to find it.
In recent years some publications have cut back coverage of the game, leaving golfers buried in the bunker looking for more.
As a result, Jim Nugent who is the founder and publisher of the Global Golf Post, is taking his online golf publication to a new level. Golf fans will pay a little more, and Nugent does mean "a little", but promises the investment will be like getting a new driver that gives you 30 more yards off the tee. Big bang for the buck.
The current form of Global Golf Post won't change, every Monday you can still receive your free edition of "The Post", but for those looking for more during the rest of week, GGP+ is waiting for you.
It's been 10 years since Nugent, who grew up in Chicago's Northshore area following his beloved Cubs, when he wasn't on the golf course being a caddie, took golf coverage in the direction of a weekly golf online publication. Some industry folks thought it might not survive, but it has more than just survived, it's grown golf coverage in ways that just having a website or a social media page could not match.
Nugent went coast-to-coast in finding the games best golf writers to come on board and tell the stories that were not being told anywhere else. But Monday's come only once a week, so the launch of Global Golf Post +, will fill the gap and cover the rounds being played the other six days. Some of the best stories told by golfers, are shared with the media on Tuesdays and Wednesdays in pre-tournament sessions. Why wait to tell them.
"We are going to deliver original, premium-quality content that you can not find anywhere else along with an exceptional user experience," said Nugent.
"There is a dearth of high-quality golf content," observed Nugent. "Global-Golf Post+ will deliver compelling stories and original reporting on the worlds of professional and amateur golf, golf course design and architecture. Global Golf Post+ will also showcase several long-form feature articles each year."
Steve Eubanks, a veteran golf journalist and longtime Global Golf Post senior writer, will serve as content editor of the new site. The new site will include two new content pieces per day.
Readers of the Global Golf Post+ site, will be asked to pay a monthly subscription rate of only $7 a month. Subscribers can receive a free 14-day trail offer equating to an introductory price of $60 annually (25% off the basic price). A trial subscription can be found at www.globalgolfpost.com.
"Informed golf journalism has been in our DNA since we launched 10 years ago. With Global Golf Post+, we will be able to deliver more quality content on a daily basis," said Nugent. "We believe  that the combination of great golf journalism, excellent user experience, and the Global Golf Post brand will be a compelling offer for serious golfers around the world."
With the launch of Global Golf Post +, in-depth golf coverage has added a few more yards.