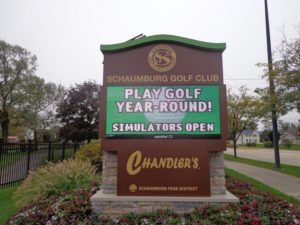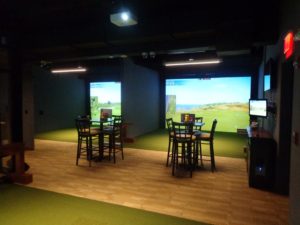 THE SCHAUMBURG GOLF CLUB on Roselle Road in Schaumburg has updated it's simulator bays, and offers golfers year-round golfing options. Are you ready to play several TOP 100 golf courses, how about the 2018 and 2020 Ryder Cup venues. If your ready to play golf Chicago style in January, check out the Schaumburg Golf Club, see Schaumburggolf.com or call (847)-885-9000. When there enjoy Chandlers Chophouse.
Schaumburg Golf Club General Manager Jon Parson's talks all year golf at the SGC.      ______________________________________________________________________
2019 Might have started last week, but it kicks into gear this week, with the first full week of the year on the calendar.
There are some folks headed back into the office this week to start the new year, and in some ways it feels the same for me. I'll hit the road later this week and start the road trip to Florida and the PGA Show.
Day 1 is a stop off to check in with the French Lick Resort, and then it's on to Pinehurst for several days off golf and some golf stories. It never hurts to begin the golf season in Pinehurst, and somehow when it comes to golf, it probably should. I'll keep everyone up to speed as the trip moves along.
If you catch the golf bug while keeping up with my travels, get out to the Schaumburg Golf Club and tee it up in their outstanding simulators bays, downstairs in the clubhouse or head out to Chicago's premier golf dome in Bolingbrook, the Mistwood Golf Dome, with the newly enhanced McWethy's Sportsbar and the OTB for extra gaming action.
THE GOLF SEASON did officially start yesterday with the playing of the Eskimo Open at Cog Hill, a large field did play with almost no snow to be found. Congrat's to Ajay Singh the Low Gross winner with a 71, and Bill Bush with a 67 to be the Low Net champ. I'm sure more golfers would have tee'd it up, but with the Bears game, the Illinois and Northwestern basketball game in Evanston, the Bulls game at the UC, there were plenty of sports options.
As golfers we all know what it's like to hit the flagstick and end up with a poor result, I guess that's how Bears Kicker Cody Parkey feels today, after his double-boink off the upright and crossbar, landed short in the end-zone, and ended the Bears season. As for flagsticks, leaving them in the cup while putting is part of the new rules in effect for the 2019 season,check them out before hitting the golf course this year.
IT WAS GREAT TO SEE, that the USGA has awarded Mistwood Golf Club, White Deer Run, and the Weibring Course at Illinois State University, 2019 U.S. Amateur qualifiers. All will be played in July, see USGA.org for details.
NEWS..word is that later this week, a major golf news outlet will be making a big announcement about their golf coverage going forward, stay clicked in.
IT WAS NICE this past week to hear from both golf publications (Chicagoland Golf-CDGA Magazine) I write for, giving me my first assignments of 2019. Yes, golf season is coming up quickly.
GARY WOODLAND, is now playing Wilson Golf clubs and almost won the Tournament of Champions at Kapalua yesterday, it took a 11 under par round from Xander Schauffele to steal the win from Woodland. It's always great to see Kapalua this time of year, another way to get excited about the golf season ahead.
Callaway has announced it's new driver the Epic Flash, and it's plenty quick from what I hear, even though maybe not as fast as Barry Allen quite yet. It's time to start planning your winter getaway, get going. RS.