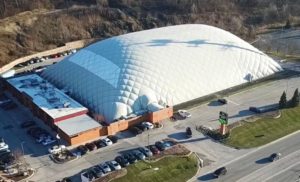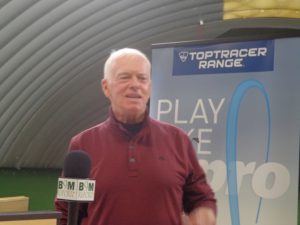 THE MISTWOOD GOLF DOME on Rt. 53 in Bolingbrook is your home for Chicago's indoor golf season. The dome now complete with the new Toptracer technology, has opened the eye of golfers of what you can do during the indoor golf season to improve your game. Owner Jim McWethy (above R) speaks to the improvements of his golf property made for this winter. The dome is open daily until 10 PM except tonight, only 6 PM, and open 9-10 PM on New Years Day. McWethy's Sportsbar is a great place to see all the action. If you need new clubs, Mistwood is a Top 100 golf fitting location in the country rated by Golf Digest. Mistwoodgolfdome.com or call (630)-739-7600 for details.
Click here and listen to Mistwood owner Jim McWethy talk about the new Mistwood and the investments made in his golf dome, for the benefit of the every-day public golfer.       _____________________________________________________________________
2018, you went by so fast we hardly knew ya.
In the coming days I will talk about what might be ahead in 2019, but for now I'll putt out on the 18th hole.
2018 started with high hopes for a great year on the golf scene, and in many ways it was. My year had it's up and downs, which is why I look forward to 2019, a few more birdies or better, and a few more tee-times. I'm hoping to add a few more news clubs in the golf bag.
It's never fun to have health woes when your trying to golf, but those things happen. I now know and appreciate how people with some sort of handicap still come out and try to play golf. I started the year with dental issues after a tooth broke down and had to be extracted. Then my eye issues kicked in and the cataracts I had almost left me blind. Two eye surgeries later, and I can see the golfball fly again, read the greens, see the hole and enjoy the game a lot more. The colors of the golf course jump out at me, and they are a sight for sore-eyes. Now there are no excuses in 2019 to not just, "go play."
There are a few less tournaments to work in 2019, so there should be more time to visit golf courses and check on courses that I have not played in a while. After the debacle that had three tournaments the same week this past summer, this year there should be no conflicts. It was great covering the 100th PGA Championship at Bellerive, the inuagural U.S. Sr. Women's Open at Chicago Golf, the Sr. LPGA Championship at the French Lick Resort, the Sr. Players Championship at Exmoor Country Club, the Marquette Invitational at Erin Hills that Northwestern University went up to Wisconsin and won. The Western and Women's Western Amateur's, the KPMG Women's PGA Championship at Kemper Lakes, and the Men's and Women's Illinois Opens, the Rust-Oleum Championship. It was difficult missing the John Deere Classicafter so many years in a row of being out in the Quad Cities.
I do take pride in playing 22 courses in 2018, that I had never played before. I have now played, 507 different golf courses across the country. It was nice to finally make it into the "500 Club". Now the trip starts to see if 600 is possible down the road.
As far as the courses I played. The best 10 courses of the year were. Chicago Golf Club, Mammoth Dunes at Sand Valley, Erin Hills, Copperhead at Innisbrook, Heron Point at Sea Pines, Streamsong Black, Exmoor Country Club, Wynstone, Tiburon-Black in Naples, The Club at Porto-Cima (Lake in the Ozarks).
The Sandbox at Sand Valley and the Cradle at Pinehurst, were the best par-3 courses. I must add that I really enjoyed the renovated Medinah No.2 course, and the George Fazio course at Palmetto Dunes Resort on Hilton Head, that finally reopened from hurricane damage and a bunker project. The renovated (Pete) Dye and Wanamaker Courses at PGA Village in Florida were both good. The newly renovated Players Nine at the Schaumburg Golf Club is very good, if your looking for a nine-hole round.
When it comes to new courses in 2018, Mammoth Dunes edges out Streamsong Black and Sage Run in Michigans U-P. But all three courses should be added to every golfers must play list.
On behalf of myself, my Golfers on Golf partners Ed Stevenson and Bill Berger, we would like to thank every one of our sponsors for 2018. Mistwood and the Mistwood Golf Dome, the French Lick Resort, the Schaumburg Golf Club, Erin Hills Golf Club, Mt. Prospect Golf Club, Arlington Lakes Golf Club, Arrowhead Golf Club, the PGA of America and the Women's PGA Championship, plus DuPage Golf. A special thanks to the radio show co-hosts who came to our WNDZ studios to be a part of the show. The Green Street Grille and Jakes Pizza on Grand in Franklin Park, and our print partner Chicagoland Golf. If you would like to be a Golfers on Golf sponsor in 2019, please contact me through our website, golfersongolf.com, or through my social media pages on Linkedin, Twitter or Facebook.
I'll be at the PGA Show in Orlando next month, and the Chicago Golf Show in Rosemont come February. In the meantime, 2018 Thanks for the Memories, and the Gog Blog is back in 2019. Happy New Year, and thanks for reading. RORY SPEARS