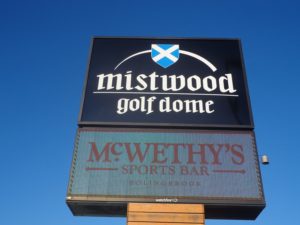 MCWETHY'S SPORTSBAR in the Mistwood Golf Dome, is your place for Bears football today, and the playoff games that follow. The golf dome is your place for winter golf, and a Top 100 place in America to be fitted for golf clubs. Mistwood Professionals above like Chris Ioriatti (L) and Dan Phillips (R) can get you pointed in the right direction along with Eric Russell when it comes to new sticks. Why not get your game off to a great start in 2019 with new clubs. It doesn't have to be a full set, maybe woods, irons, wedges or a putter. Open daily until 10 PM, Mistwood Golf Dome in Bolingbrook. Located on Rt.53
Click here and listen to an interview with Chris Ioriatti on club fitting and Mistwood Golf.  _____________________________________________________________________
As 2018 comes to a close, here is one more Sunday Morning Short Game to close out the year.
First on the tee from the Mistwood Golf Dome in Bolingbrook, was the great live segment done on ABC 7 yesterday morning with Director of Golf Andy Mickelson. If you missed it, it can be seen on line or through Channel 7's website.
It was amazing how on a cold morning with some slick roads that created a bunch of cars in the ditches, how many people were at the Mistwood Golf Dome at 9:20 in the morning. By 10:30 the place was packed and all the hitting bays were full of golfers. Hopefully a few of them got lessons or ordered new clubs. Both are a great idea this time of year.
The French Lick Resort in French Lick Indiana, is having a New Year's eve party in the dome, that includes a four course meal, and champagne at the stroke of Midnight.
If your New Year's  eve celebrations have been lacking in recent years, why not enjoy the start of 2019 in fine fashion in one of the wonders of the world. The West Baden "Dome Hotel" that is part of the French Lick Resort. See Frenchlick.com for details.
The Caledonia Golf and Fish Club of the nation's Top 100 golf courses, will start the new year, with a celebration of it's 25th birthday.
On every Tuesday during the month of January, green fees at Caledonia that opened for business in 1994, will be only $59 dollars.
This price includes taxes, cart fees, GPS and a special anniversary gift.
Need more, okay how about $2.50 domestic beers, $2.50 hot dogs, throwback specials in the Grillroom and in the Pro Shop. Golfers you can book your round online at the CaledoniaGolfandFishClub.com or by calling (843)-237-3675. The Mike Strantz design is 29th on on Golf Magazine's list of Top 100 Courses You Can Play. Golf Digest has Caledonia 85th on it's America's Greatest Public Courses. The course plays through what was once a rice plantation that has live oak trees drapped in a Spanish Moss.
SUPERBOWL SUNDAY Feb. 3rd, 2019 The First Tee of Greater Chicagoland is hosting a fundraiser at the Valley Lodge Restaurant on Waukegan Road in Glenview. Doors open at 3 PM, and runs until the conclusion of the game. Cost is $35 for snacks and a buffet, but does not include alcohol, which is sold seperately. Sign up now online at firstteeofgreaterchicago.org.
Golfers on Golf has learned that Club Champion one of the leading clubfitters in the country, will open a new location on Golf Road in Schaumburg, during the month of January. More details within the week ahead.
A wrap up of 2018 tomorrow, thanks for reading. RS.