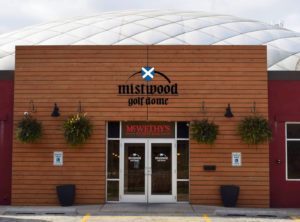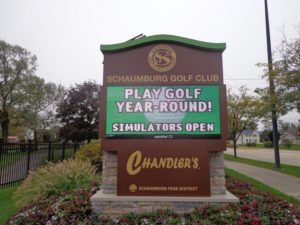 THE MISTWOOD GOLF DOME is open for business, formerly known as McQ's, the newly renamed dome has a new look with Toptracer golf and a redone sports bar. Checkout Mistwood golfdome in Bolingbrook, see Mistwoodgolfdome.com For details. THE SCHAUMBURG GOLF CLUB 401 N. Roselle Road has it's simulators open for the winter season ahead, play golf on 2018 Ryder Cup venue Le Golf National and or 2020 Ryder Cup venue Whistling Straits, details at Schaumburggolf.com or (847)-885-9000.
THE GOG BLOG visits the new look Mistwood Golf Dome today, stay clicked in for updates from the dome, now with Toptracer technology.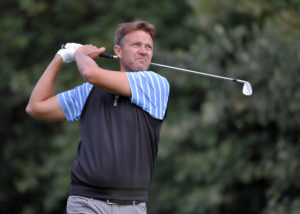 TRAVIS JOHNS OF MEDINAH (L) and JEFF KELLEN of the Rockford based Mauh-Nah-Tee-See Club (R) wins the IPGA Assistant Player of the Year Award.
Medinah teaching professional Travis Johns has won the 2018 IPGA Players of the year Award of the Illinois PGA Section Johns second place finish at the season's final major the IPGA Players Championship at Eagle Ridge in Galena earned him 480 points and that was enough to pass front runner Brian Carroll of Royal Hawk CC, and win the Bernardi Player of the Year Honors. While Kellen was leading the Don Drasler Assistant  POTY honors and wrapped it up by winning the Players Championship and earning another 600 points.
"We have some very talanted PGA Professionals in the Illinois Section and each season Player of the Year races are close and often come down to the final events of the year like they did this year," said Carrie Williams, Executive Director of the Illinois PGA Section. "Travis and Jeff both played very consistently throughout the season and performed well at major events. Congratulations to both of them for this outstanding achievement."
Johns a teaching professional at Medinah Country Club and IPGA member since 2010, competed in 10 tournaments in 2018, and finished Top 10 in all of them. He finished in second place in two events including the season finale at Eagle Ridge.
"To win my fourth Player of the Year Award is a great honor," said Johns. "I could not have won without the support of my professional colleagues and members at Medinah. "I'd like to thank the Illinois PGA staff for managing such great events as well as the sponsors and golf courses that make it possible for us to play our tournament season."
Kellen returned back to his native Rockford, after playing the mini-tour's, and accepted a assistant professionals position at the Mauh-Nah-Tee-See Club and begin the PGA-PGM program. Kellen played in 12 events this year and won three of them including the fall event at Eagle Ridge the Players Championship.
"To win the Assistant Player of the Year was a goal of mine this season so to win it is very exciting to me," said Kellen. "The Illinois PGA Section allows us to compete and play on some great golf courses against some great players and I feel fortunate to win this award."
Carroll has a Top-10 finish at the Players Championship, and ended up in second place for Player of the Year. Dakun Chang of Twin Orchard CC was third.
Two Mistwood Golf Club professionals Andy Mickelson and Chris Ioratti were second and third finishers in the Assistants race for player of the year.