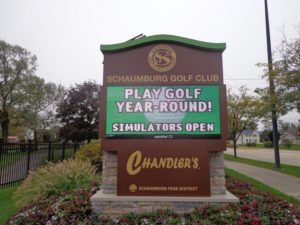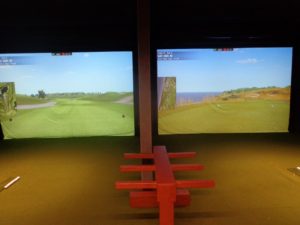 THE SCHAUMBURG GOLF CLUB has opened it's simulators for the end of the fall season and the start of the winter months. New courses include 2018 Ryder Cup venue Le Golf National and 2020 Ryder Cup venue Whistling Straits, to book you tee time on these and other Top 100 Courses, go to Schaumburggolf.com or call (847)-885-9000. If your still ready to play golf outside until the snow hits, listen to our update below. #sgc.
EDITORS NOTE: In 2017 Medinah Country Club held a media day for the press to see the renovation work done on it's Course #2.
Due to the fact the course would still not be open for at least 1-2 months after the the media event, I held back writing about the upgrades until there was a chance to play the golf course. That round was finally completed this past week. During those additional months, Course #2 has settled in and looks like it has been open for more that just over a year. The course that opened for play in 1925, and originally designed by the great Tom Bendelow might be in it's best form ever. Bendelow would be very proud. So is Medinah Country Club and it's membership, and they should be. RS
Click here to hear interviews with Former Medinah Director of Grounds Curtis Tyrell and architect Rees Jones who oversaw the Course #2 restoration project at Medinah.
Little-by-Little in recent years the Medinah Country Club has done renovation or restoration work on it's three golf courses.
First on the tee was Course #3 in preparation for the 2012 Ryder Cup matches. The work was done by Rees Jones. Immediately after the Ryder Cup ended, in fact the next morning around 5 Am, architect Tom Doak and crew got started on Course #1.
Last but not least was the Course #2 restoration by Tyrell and Jones. The project has members and their guests raving about what was done to complete the improvements to all three golf courses. In fact rounds played on Course #2 outweighed Course #1 this past summer.
Course #1 only plays 6,412 yards from the back tees, but it's front tee's at 3,018 serve a purpose as well. In fact #2 now has six sets of tee's, with four of them playing out at less than 6,000 yards. The variety of yardages has turned what was once known as the "ladies course", into a course for all golfers. Sure it's great for women, seniors, juniors and those first learning this great game. But Medinah's men are enjoying it too, and so are the guests who used to only come to Medinah to tackle Course #3.
The seventh set of tee's are front markers for smallest of the junior golfers, and who can join their families on the course, and begin at the earliest of ages.
These tee's address Medinah's "Golf for Life" program that allows for players at all levels to enjoy golf.
The restoration to course #2 had no major re-routing's but fairway acreage did increase from 21 to 34 acres. So of the holes through tree removal and other changes, now have fairway corridors that connect to adjoining holes. Something not seen much today, but something that was popular back a century ago.
The restoration team worked from a collection of photographs that went back 80 years. Among the changes made from using the historic photography, was the removal of some bunkers and bunker complexes, while others were reintroduced to the golf course.
The green complexes, were reshaped and restored to to Bendelow's original contouring. As a result the greens are now longer, deeper, raised up in height, and have more definition in the putting surfaces.
The greens were rebuilt to USGA specifications and are equipped for sub-surface vacuuming. The tees include a sand mix that allows for better drainage. The bunkers have improved drainage, erosion liners and now all have the same type of sand. Tees fairways and greens were re-grassed with the same blend of bentgrass, and the rough is complete with Kentucky Blue grass.
Course recently served as the venue for the first the University of Illinois Women's Golf Invitational, that was won by Purdue University, with Illinois finishing third behind Kent State. The club has extended the event through 2020. Course #2 received rave reviews from the players and coaches of the universities and colleges that competed in the tournament.
MEDINAH COUNTRY CLUB will host the 2019 BMW Championship on it's Course #3 next August. A priority ticket purchase plan is now in place if you sign up by November 7th, please visit BMWChampionship.com for additional details.