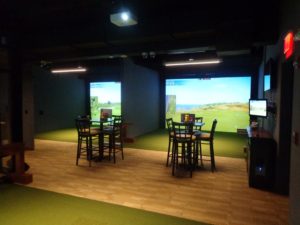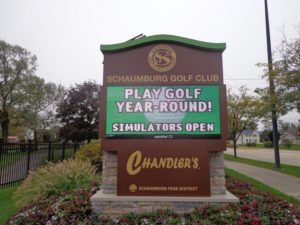 IT'S YEAR ROUND GOLF AT THE SCHAUMBURG GOLF CLUB, THE SIMULATORS ARE NOW OPEN, hear more about cold weather golf from SGC GM Jon Parsons.
THE ANNUAL WESTERN GOLF ASSOCIATION (WGA) fund raising Black Tie Dinner in Chicago was held Friday night in downtown Chicago.
This years guest speaker was Mark O'Meara, the 1998 Masters and British Open champion, who is also former U.S Amateur Champion.
O'Meara who has played in numerous Western Open's and Western Amateurs at Point O'Woods the site of the 2019 Western Amateur, spoke about his memories competing in WGA Championships.and the role of the caddie in golf at all levels today.
O'Meara's first major title was the 1998 Masters where he out-dueled his playing partner in the final group Fred Couples. Ironically it was Couples, who in extra holes during the match play, who ended O'Meara's best ever run during the Western Amateur. Before O'Meara sat down for a fireside chat with MC Mark Rolfing during the dinner, he spoke with some assembled media.
Click here to hear Mark O'Meara's interview during the media session at the WGA Black Tie Dinner last night in Chicago.
The Black Tie Dinner is one of the Western Golf Associations biggest fund-raisers, with money being raised through bids on golf options at various private clubs and resorts around the country, who also share the vision of having caddies as part of their golf experience.
The Evans Scholarships are awarded to caddies who excel both on the golf course and in the classroom, in addition to coming from a family that could use financial assistance at the college education level. The BMW Championship that supports the WGA-Evans Scholars Foundation will return to the Chicago area next August, and will be played at the Medinah Country Club.
Right now golf fans can sign up to get tickets during the priority ticket program if they register at BMW Championship.com by this Wednesday November 7th.
The WGA-Evans Scholars Foundation has a goal of putting 1,000 caddies a year in college by the year 2020. For more information please visit wgaesf.org.