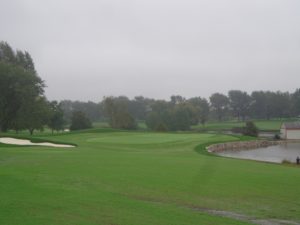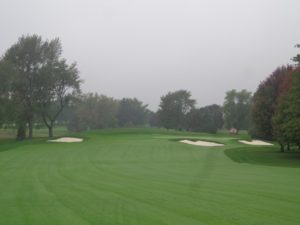 THE BAER NINE at the Schaumburg Golf Club is moving through renovation at a great pace this fall, and should be open for play around July 1st, of 2019. In the meantime try the Players Nine already open from renovation. If it's a little cool outside, take your game indoors and try the simulators that now include the Ryder Cup Courses of 2018 and 2020. For food and beverage, Chandlers Chop House is a guaranteed birdie on all fronts. Schaumburg Golf Club is a year round golf facility. SchaumburgGolf.com or call (847)-885-9000. Located at 401 Roselle Road, just minutes from Woodfield Mall #GOLF ______________________________________________________________________
THE JOURNEY CONTINUES and with that the Cog Hill All-Stars have advanced for the third year in a row to the PGA Jr. League Championship that will be conducted at Grayhawk Golf Club in Scottsdale Arizona from November 16-19.
Long time Cog Hill PGA Professional Kevin Weeks is the team captain. The Cog Hill team is comprised of the following players. Joseph Sluzas 12, from Lockport, Henry Reiland 13, of Chicago, Allyson Duan 11, of Buffalo Grove, Stefan Ink 14, of St. Charles, Andrew Lim 14, of Naperville, Jason Gordon 13, of Northbrook, Aidan Gutierrez 12, of Valparaiso IN, Jack Mulligan 12, of Burr Ridge, Tyler Greenspahn 13, of Winnetka, Jimmy DeCillo 12, of Glencoe. Sluzas and Ink were on last years team that went to Arizona. Reiland won the 2018 DuPage County Junior Classic in a playoff. Good Luck to Cog Hill at the nationals.
The Cog Hill team advanced from the sectionals that were held at Walnut Creek Country Club in Lyon Michigan. The other Illinois teams that competed included the Central Illinois All-Stars from Pekin and Peoria and were captained by Paul Betteridge PGA. the Rockford Area All-Stars with Lloyd McWilliams the PGA captain. The Village Links Brassie's All-Stars with Matt Smela as the PGA Captain.
This year over 2,500 youth golfers participated in the program throughout the Illinois Section, according to Illinois PGA Executive Director Carrie Williams.
THE 2018  IPGA Birdies for Charity Group faced several challenges before even teeing off. River Forest CC that had been the scheduled home, got socked by several inches of rain, and the event had to be moved on short notice. Stonebridge Country Club stepped up on short notice to host the event, with assistance from it's board and IPGA pro Andrew Stevens.
The Illinois PGA section professionals made 1,014 birdies to raise $378,000 to benefit children's charities that included the Ann and Robert H. Lurie Children's Hospital of Chicago, JDRF Illinois Chapter, Ronald McDonald House Charities of Chicagoland and Northwest Indiana, the Illinois PGA Foundation and bonus charities of Cal's Angels and Folds of Honor. Over 8 years the Illinois PGA professionals have raised almost $1.4 million dollars.
Seven more section professionals played this year than in 2017, and pro's Garrett Chaussard of Skokie CC and Brian Carroll of Royal Hawk led the way with 38 birdies each, with Curtis Malm of White Eagle CC and Sean McLeod of Medinah just 1 back at 37 birdies.
The efforts by the professionals helped raise over $108,000 more this year than in 2017 which was recognized by by River Forest CC head professional and past IPGA Section President Chris Gumbach and IPGA Executive Director Carrie Williams. Gumbach saying he was very proud of all the professionals for hanging in to play on the scheduled day, and by Williams who spoke of the pro's raising the bar in this event once again. The Birdies for Charity event was started by Medinah professional Travis Johns, who brought the idea with him from Texas, where he previously worked.
THE CENTRAL CHAPTER of the Illinois PGA headed up by Country Club of Decatur head professional Steve Orrick held it's own Birdies for Charity event at CCD, and raised 437,000 for the Boys and Girls Clubs of Decatur and the OSF Healthcare Children's Hospital of Illinois. Kyle English of Crestwicke CC led the way by making 35 birdies.
STEVE ORRICK was also named the Central Illinois PGA Section Player of the Year for 2018, it was the tenth time he has won the award. In addition to the Player of the year honors, Orrick has qualified to play in the 2019 PGA Professional Championship from April 28, through May 1 at Belfair GC in Blufton South Carolina. The top 20 professionals will advance to the PGA Championship at Bethpage State Park on Long Island that will be held in May.
THE IPGA SECTION announced the hiring of former University of Illinois women's golf team member Dana Gattone to it's office staff.