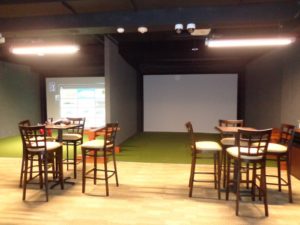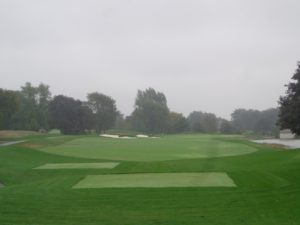 THE SCHAUMBURG GOLF CLUB is a Year Round golf facility. Regardless of the weather outside, you can play golf in Schaumburg. The simulators are now open for the cooler days outside, and new courses are now available to play including, Le Golf National home of the 2018 Ryder Cup. When your ready to play outside, the Players Nine has reopened from renovation, and Phase Two the restoration of the Baer Nine is moving right along as seen on the 10th hole in the (R) photo. SchaumburgGolf.com        _____________________________________________________________________
WHAT A WEEK it was at the French Lick Resort, a golf destination that knows how to put on an event.
The Senior Women's LPGA Championship has found a great home, that is supportive to women's golf.
The Pete Dye Course home to one of Pete's last masterpieces, might not be an easy course, but it provides a great test of championship golf, with scenic views not found on too many other courses around the world. With cool weather and play being held on Monday-Tuesday and Wednesday the galleries were small, but energetic. Maybe next year when the dates are about the same in October of 2019, Mother Nature will send a little more heat.
Around what was happening on the golf course, French Lick has things happening off of it. The latest renovation includes a new addition to the French Lick Hotel, with suites that can be joined, and a new sports bar to see all the biggest games, and follow the action on the golf courses. Speaking of the golf courses, the resorts Valley Links Course designed by architect Tom Bendelow (Medinah Courses) will get a restoration on it's current nine holes, and will get another nine holes added. This is expected to happen after the hotel addition is complete. I will add another full story in the coming days.
OVER THE YEARS I have always enjoyed my chats with Pete Dye, his lack of holding back and saying what needed to be said, was refreshing. Unfortunately word is that Dye's health has deteriorated to a point where he will not be seen out in public in the future. His work for the most part will taken over by one of his "disciples" Chris Lutzke who will continue projects in French Lick and apparently in Kohler. Where both touch ups will get done at Whistling Straits before the 2020 Ryder Cup, and a new fifth course in the Kohler area. I will never forget Dye explaining to me how the "Volcano Bunkers" created for the Dye Course in French Lick came to be, funny story.
HOPEFULLY THE WRIST or hand surgery that Michelle Wie announced from her hospital bed, that will keep her sidelined the rest of 2018, will correct the stress fracture and or pressure that left her playing in pain most of this year. Get well soon Michelle.
IT WAS NICE TO SEE Anthony Bradley the head pro of the Valley Links Course and main club fitter and repair guy, get some proper recognition for his design of Laura Davies new Callaway Rossie 35″ putter on the weekend before the championship. Davies made plenty of putts with it, and as BIG 3 partner Tim Cronin points out in this weeks Global Golf Post Range Rat column, Davies collection of all her clubs in a room at home won't have this current putter in it, anytime soon.
CONGRAT"S to Illini Women's Coach Renee Sloan on her teams win at the Cardinal Classic, on the University of Louisville's home course in Kentucky. Junior Tristyn Nowlin earned her first college victory in leading the Illini to the win.
ILLINI MEN'S COACH MIKE SMALL has made it into the final weeks of the playoffs on the Champions Tour, after playing in only several events on the champions tour all season long.  A shaky final round yesterday dropped him back towards the back of the pack in this past weeks championship.
On the women's B1G TEN side, Minnesota Women's Golf Coach Michelle Redman finished 4th at French Lick last week, after finishing second in 2017.
THE WEATHER has been on the cool side, and hopefully will warm up a bit before fall golf season has to wind-down to a close in the next couple of weeks. Get out for a final round or two before the snow lands. Courses are offering great deals to come out and play, take advantage while you can. Indoor season will be here soon enough. RS