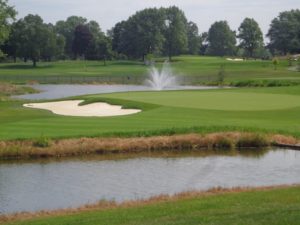 THE SIMULATORS ARE OPEN at the Schaumburg Golf Club 401 N. Roselle Road, come play Le Golf National Ryder Cup 2018, or Whistling Straits Ryder Cup 2020, and other new course additions. The new Players Nine is still open for outdoor golf, so come tee it up before the winter snow lands. Visit Schaumburggolf.com or call (847)-885-9000 ______________________________________________________________________
Jan Stephenson has been many things to golf over the years. Some folks always thought of her as just another pretty face. Jan Stephenson was always more than that.
When she came over to America from her native Australia, she already had a proven track record with wins in some good professional and amateur tournaments. So the hope was that she could win on the LPGA Tour, and then she did just that.
The good news at that time, was that a player who the tour wanted to be the face of the tour, proved here that she could play. With that the endorsements and promotion opportunities started to come in. Today Stephenson still plays golf, but admits that many of the things she used to do more off, like practice and work out, she no longer gets the time to do. There is business to do and the newly elected Hall of Famer is not only a senior legends tour player, but she owns a golf course, and is dabbling in the beverage business as well. Both wine and and variety of rums provide options for consumption.
Stephenson says that all of her beverage products are available in Chicago, downside is that you have to go to the golf clubs in town that sell them.
It started when she brought over a friend from Australia, who knew how to run a vineyard, and it's taken off from there. The wine's are a red and a white, and there are three types of rum. The most popular one so far, is a pineapple rum that does not need Coke for the mixer, just pour it over the rocks and you are all set with a great tasting drink that goes down very easy.
Click here to hear the interview with 2019 Hall of Fame member to be Jan Stephenson.
Stephenson got into the golf course owner business, when she purchased a course just north of Tampa, called Tarpon Woods. Stephenson admits it was not in the best of condition when she made the purchase, and little by little she is rounding it back into shape. Stephenson has made the course friendly for first responders and veterans to have access to.
Stephenson has known President Donald Trump for a years, and still calls him a good friend. Her comments on President Trump are included on the audio interview.
Stephenson says that the call to hall really meant a lot to her, it was something she was very much hoping for, which should make 2019 a very good year for Jan Stephenson.