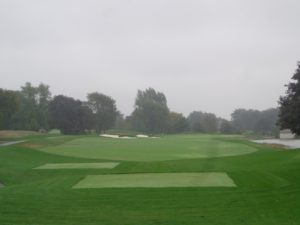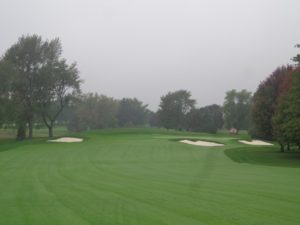 THE SCHAUMBURG GOLF CLUB is rolling through Phase Two, of it's three phase renovation of it's golf facilities. The Baer Nine (Holes 10-12 above L-R) is now under renovation and should reopen around July 1 of 2019, SchaumburgGolf.com for details.  _____________________________________________________________________
THE FIRST ILLINI INVITATIONAL is in the books and the Lady Boilermakers of Purdue have taken home the trophy from the Medinah Country Club.
Purdue shot a three round total of 837, to defeat Kent State by 4 shots (841), Illinois was third (845) and hung-on to defeat the University of Miami Florida by 1 stroke, as Miami carded an (846).
The news was good for Illinois in the fact that Illinois shot 19 under par, which was the low team score in school history. Junior Tristyn Nowlin who recorded send place finishes twice this past summer at Mistwood during the WWGA National Amateur Championship and the Phil Kosin Illinois Women's Open tied for the low Illini score in Round 3 with a 69. Freshman Crystal Wang led Illinois with an 8 Under par score for the championship, she shot a 5 under par 67 in Round one, one of the best scores in the history of the Illinois women's golf program.
Click here to hear interviews with Illinois players Senior Bing Singhsumalee (14th place at -3) and Junior Tristyn Nowlin, follow by Coach Renee Sloan.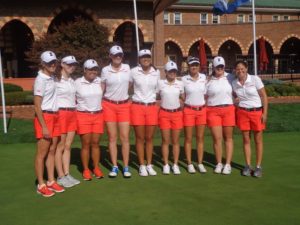 THE CHAMPIONS the Purdue Boilermakers (L) and the host and third place finishers the Fighting Illini of Illinois.
All indications are that the event will return to Medinah in 2019. Illinois has two more tournaments to play in this fall. The course played to a par of 72, and 15 schools participated. Fightingillini.com has full coverage of Illinois sports all year round.
The recently renovated Medinah Course #2 has been well received by club members and their guests. Players and Coaches from several schools said the golf course was in outstanding shape, and the renovation headed up by former Medinah Superintendent Curtis Tyrell and architect Rees Jones were very good.