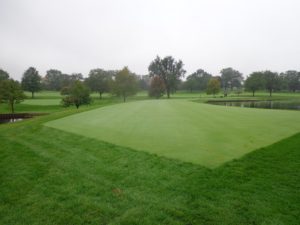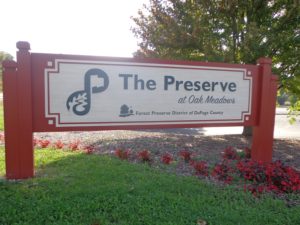 THE 11 HOLE TEE BOX ON THE BAER COURSE at Schaumburg Golf Club, wide enough to create options and new angles, ready for play July of 2019. For more details see Schaumburggolf.com THE PRESERVE at Oak Meadows, part of DuPage Golf, come and play Maple Meadows this Sunday in the Rambo Scramble DuPagegolf.com    ______________________________________________________________________
It might be October, but there is much going on in the golf world.
The post Ryder Cup fires still burn around Team USA, and the PGA Tour has started the 2019 season, yes already. Phil Mickelson is back playing, and announcing he is cutting back his schedule in 2019 and beyond.
Looks like he is borrowing one from the Steve Stricker playbook, and speaking of Sticker, sources are saying he will be selected as the Captain of the 2020 Ryder Cup Team at Whistling Straits in Haven/Kohler Wisconsin. #Goodluck.
THE SCHAUMBURG GOLF CLUB, every time I go there since the renovation has started, I get more and more impressed by the work the Park District and architect Todd Quitno are doing. The park board and GM Jon Parsons have done a stellar job in giving the golf course and clubhouse a full renovation, and golfers are loving the end result.
When everything is said and done around July of 2020, golfers will have one great set of 27 holes to go play. That, along with the new putting greens, driving range and revamped downstairs area with simulators that now include Le Golf National and Whistling Straits the 2018 and 2020 Ryder Cup venues, make the SGC now a full year-round golf facility.
Below-zero, 10 inches of snow outside, no problem, off to Schaumburg GC and lets go tee it up. When it's all done, SGC will be one of the Top 10 public courses in the Chicagoland area, if not Top 5, it's that good. The Baer Nine that is under renovation right now, is pretty much done work wise, and now it's into the grow in phase. There might be another tee box added on one of the par 3 holes, but that's about it. The two water holes 10 and 18 have a new rock wall front between the wet stuff and the greens. The Baer Nine should be open for play around July 1st of next year, but with a warm fall, mild winter, good spring, who knows maybe late June is not out of the question.
Based on what I have seen on the first two nines, I can't wait to see what Quitno has cooked up for the final nine holes, the Tournament Nine. More at Schaumburggolf.com.
IF YOU DID MISS IT, drop down on the webpage and see our weekend features on architect David McLay Kidd, creator of Bandon Dunes, Mammoth Dunes at Sand Valley, and in Washington State Gamble Sands. Kidd has just been selected to build the second course at Gamble Sands, that is quite a destination property. I haven't been there yet, but I'm told by those who have it's pretty much in the middle of nowhere, but these days that's where some of the best new courses are located. Fly to Seattle's airport Sea-Tac, rent a car and drive almost three hours and you are there, nothing to it.
I posted some pictures of the Baer Nine from last week's tour at the Schaumburg GC, and our feature on ProCheck, that measures the compression on your golf ball. Pro Check makes sure that your new looking golf ball on the outside, still has the guts on the inside to go the distance it should. Procheckgolf.com.
THE ILLINI WOMEN'S invite at Medinah is underway, and Illinois is in third place, chasing leaders Purdue and runner up Kent State. I'll head out for the final round and provide a recap.
THE ILLINI MEN have won for the second straight year in South Bend at the ND Fighting Irish invitational on the Warren Course that will host the 2019 U.S. Sr. Open next summer. For Illinois it's their second straight win, after winning at Yale two weeks ago
Giovanni Tadiotto and Bryan Baumgarten both recorded T-4s with 12 under par scores for the three rounds. Michael Feagles was 6th at 11 under par. Illinois was 44 under par and Georgia Southern was second at 34 under par, University of North Carolina was third at 31 under and Iowa was 4th at 19 under par.
"I'm very happy with this win and the way we played in the last round, expanding upon our lead," said head coach Mike Small. "In team golf, when you have a lead going into the final round, that's what you do, you build on it. It was a total team effort with the junior class leading the way and playing from strength and commitment."
Next up for #17th ranked Illini is the Tavistock Collegiate Invitational October 21-23 at Isleworth Golf and Country Club in Windermere Florida, that will showcase some of the nations top teams, headed up by #11 Arizona State.
SOME WARMER WEATHER the next few days, go play. RS