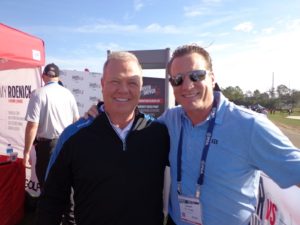 8 OF THE TOP PLAYERS in the UL International Crown, teeing off tonight in South Korea, catch all the action on The Golf Channel, 32 players, 8 countries, 1 Crown, the USA is the defending champion. WILSON GOLF GM TIM CLARKE, and former NHL star and Chicago Blackhawk Jeremy Roenick serves as judges on Driver vs Driver 2, see the path to the next new innovative driver by Wilson Golf, Tuesday nights on TGC.   ____________________________________________________________________
THERE IS AN OLD SAYING GOLF, that you Drive for Show and Putt for Dough.
For Erin Hills Caddie Chris Johnson that saying hits it dead center in the cup.
Last year Johnson made it all the way to Las Vegas, where he took second place in the Major Series of Putting (MSOP).
This year Johnson when he is not lugging bags around Erin Hills home of the 2017 U.S. Open and the 2011 U.S Amateur, Johnson is working on his putting, something that paid off pretty well for him last year in Las Vegas. With a second place finish in 2017, Johnson took home over $42,000 for sinking a few putts. Last month Johnson returned to a local MSOP qualifier at Cantigny Golf in Wheaton, and now he advances back to the Jack Nicklaus designed putting course on the Strip in Las Vegas, where he has another chance to take home $75,000.
When your out playing golf at Erin Hills, there are plenty of good caddies, but on Erin Hills greens landing Johnson as your caddie can shave a few strokes off your scorecard.
Johnson doesn't just stand off to the corner of the green and suggest you hit it one-ball out. He stands over your ball and gets a real look at what kind of putt you have, before you have to step up and roll it. Not bad considering what some caddies at top clubs, actually do give you before expecting a big fat tip. So when your round is done at Erin Hills and your enjoying a nice cold Fescue Rescue on the patio by the clubhouse or by the fire pit behind the pub. That golfer walking up the first fairway, might be Johnson heading out for some practice.
Click here to hear the interview with Erin Hills caddie and putting champion Chris Johnson.
The Major Series of Putting (MSOP.com) championship finals are October 23-28 on the strip in Las Vegas. If your in the town that never sleeps, go cheer on Chris. The MSOP is open to anyone who wants to pay the entrance fee to compete.