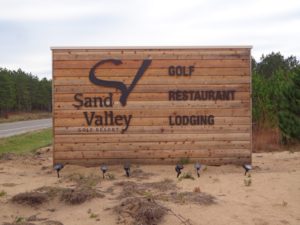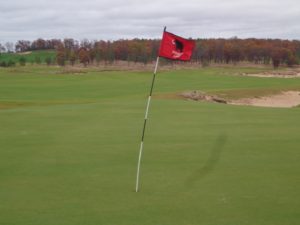 WELCOME TO SAND VALLEY GOLF RESORT, in Nekoosa Wisconsin, Mammoth Dunes by David McLay Kidd now with all 18 holes open. Visit Sandvalleyresort.com.       _____________________________________________________________________
THERE ARE now legions of golfers who know who David McLay Kidd is, and they all have Mike Keiser to thank for that.
It was just over 20 years ago when Keiser went to Scotland and got introduced to the son of golf course superintendent Jimmy Kidd the long time caretaker of Gleneagles. David Kidd had learned golf from his dad, he had worked the courses at Gleneagles growing up learning tee's, greens, fairways, bunker styles and design.
As Kidd learned golf and golf courses, he decided that he could help build golf courses or restore them, which sounded like a better idea than just maintaining them on a daily basis.
In the Mid-1990's when Keiser starts asking Kidd questions about designing a golf course that would be built on some sandy soil located next to an ocean, and at that time the land is covered by Gorse. Yes Gorse, that prickly shrub that most Americans only see on the television when the are watching the British Open.
By the time Keiser is finished with Kidd, he knows he has found his designer to help build a golf course on some land he has bought in Oregon, alongside of the Pacific Ocean. Kidd then travels to America, is excited about what he finds, and that the work to clear the Gorse and create Bandon Dunes is underway. Kidd's stellar design that Keiser hopes will attract enough golfers to play 10,000 rounds in it's first year so he can break-even from a financial standpoint, attracts so much play, that after two months Keiser knows his oceanside walking-only venue will likely produce close to 25,000 rounds in season number one. Immediately plans begin to build a second golf course, and Keiser hails Bill Coore and Ben Crenshaw to create 18 more holes that become Bandon Trails.
With Kidd not landing anymore work at Bandon Dunes, he takes advantage of new his newly found popularity in America and sets up his own shop in Bend Oregon.
As Kidd moves on, so does Keiser. As time moves forward the two parties don't seem to be on course to work together anytime soon. Then Kidd lands a project in Washington State, that becomes Gamble Sands, which is still emerging as a destination property.
As Keiser starts to zero in buying the property now known as Sand Valley, he calls Kidd to come see the land. Kidd hears central Wisconsin, and wonders if Keiser is crazy, but convinces Keiser to visit Gamble Sands to see his latest work. As Keiser walked off the 18th green, he calls Kidd, and tells him he loves Gamble Sands, and that Kidd has rediscovered the vision that made him so successful at Bandon Dunes.
As a result Kidd is told he has a chance to design the first course on the land Keiser says he will buy in Wisconsin, and that he is likely to call Sand Valley.
Kidd heads to Wisconsin and checks out the sandy acreage, he creates a plan for the first 18 holes and submits it to Keiser.
Then on Christmas eve Kidd gets a call from Keiser, who is quick to wish Kidd a Merry Christmas before telling him that he has hired Coore and Crenshaw to build the first course at Sand Valley.
Kidd admits to being disappointed, but when opportunity knocks to built the second course at Sand Valley, and that he can use any of the remaining land that Coore and Crenshaw have not touched, he gets to work. His routing across much of the highest elevation on the property earns him the right to design Sand Valleys second golf course.
After coming up with the routing, that has the current third hole on Mammoth Dunes being his 18th hole, Keiser changes gears and announces the current location of the main clubhouse and villa's and wants Mammoth Dunes to start and end at the new clubhouse location. Now the trick for Kidd is to make that all work, which he does and as a result, Mammoth Dunes is now drawing golfers from around the globe, and praise from the guests, media and national course raters of multiple golf publications.
Click here to hear the feature interview with architect David McLay Kidd, creator of Bandon Dunes, Mammoth Dunes, Gamble Sands, and likely to start work on Gamble Sands II in 2019.
During the interview, Kidd announces he has recently been selected by the owners of Gamble Sands to design the second course. While Tom Doak was recently named to create the third course at Sand Valley, the question is, might he get yet another chance to work for Mike Keiser at Sand Valley, or maybe somewhere else. There are those hush-hush Keiser projects that are still in hiding, likely behind the some sandy dunes, in the woods or along the coastline of a big body of water. Maybe that next announcement is not far off, hopefully it's just not 20 years apart like it was from Bandon Dunes to Mammoth Dunes.
Golfers everywhere are eagerly waiting to hear about the next David McLay-Kidd and Mike Keiser project, it can't come soon enough.