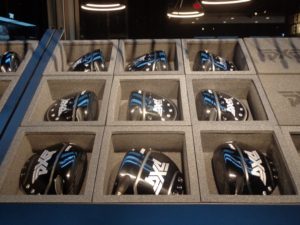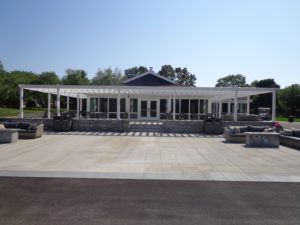 DRIVER CLUB HEADS at the new PXG Fitting Studio in Northbrook, see PXG.com for details and information. (R) The new clubhouse at the Highland Park Park District's recently reopened Sunset Valley Golf Course, course renovation by Rick Jacobson.        ______________________________________________________________________
IT WAS QUITE A WEEKEND for college golf in the Chicagoland area with both the University of Illinois and Northern Illinois University holding their men's golf invitationals.
Many of the top golf programs from around the country were in town to play two of the better courses in America.
Starting at Olympia Fields where The University of Illinois held it's OFCC/Illini Invitational, nine of the top 25 programs where there. The defending national champions, the Oklahoma State Cowboys won the championship with a score of 11 under par, USC was second at +7 and University of California finished third at +16. Illinois was sixth at +22. Junior Michael Feagles led Illinois in the final round with a score of 1 under par 69, Feagles was +5 for the tournament, while Brendan O'Reilly who had a 67 (-3) in round two finished at +4 for the tournament along with Giovanni Tadiotto. Illinois entered the tournament ranked #16.
Oklahoma State's Matthew Wolff earned the medalist honors with a score of 6 under par for the tournament.
"It was a successful tournament," head coach Mike Small said. "Oklahoma State deserved to win, they played great. On our side I saw a lot of positive things that led me to believe this team will make some improvements this year. We reverted back to some things that we are not used to doing, things that good programs cannot do, and we will address those in the coming weeks."
Coach Small also thanked Olympia Fields it's membership and pro staff fro running a great event, and said his program and the U of I were very grateful to the club. Next up for the Illinois men's team is the Macdonald Cup at Yale, on the schools golf course on September 29th and 30th.
AT RICH HARVEST FARMS in Sugar Grove. Marquette University won the Northern Illinois Intercollegiate (+10) by 1 shot over Notre Dame, and by 5 shots over Missouri that fell back on Sunday. NIU was 7th at (+24), 14 shots back of Marquette.
The second round had to be completed on Sunday morning, due to slow play in Round 1, that took almost 6 hours to finish. Second round play moved faster, but players from all schools did not finish on Saturday due to darkness. Players had anywhere from 2-5 holes left to play in Round 2 on Sunday morning.
Hunter Ostrom (ND) won the tournament as an individual with a score of -6. Salvador Rocha of NIU was the low scoring Huskie, finishing in 23rd place with a score of +5. Rocha was followed on the NIU team score by Jordan Less at +7, Thomas Demarco at +9 and Paul Schlimm at +12.
Tournament champion Marquette University of Milwaukee Wisconsin, will host it's own invitational on October 1-2 at Erin Hills in Erin Wisconsin, that hosted the 2017 U.S. Open.