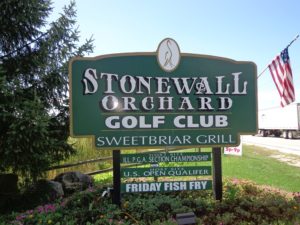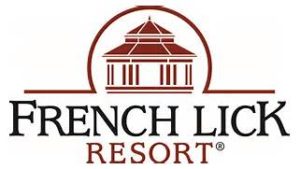 THE STONEWALL ORCHARD GOLF CLUB in Grayslake is the home of this weeks Illinois PGA Championship, tee times and more Stonewallorchard.com. THE FRENCH LICK RESORT will be home to the Sr. LPGA Championship coming this October 16-17-18. Laura Davies and Trish Johnson head up a strong field. Details at Frenchlick.com     _____________________________________________________________________
IT'S BEEN WET AND SOGGY, the 97th Illinois PGA Section Championship has been fighting the weather for the first two rounds of the tournament.
Round 1 saw the field of 120 players needing to play Lift-Clean and Place from shots landing in your fairway, when weekend rains left Stonewall Orchard a bit on the soft side.
Round 2 had to be delayed  2 1/2 hours when heavy rains and lightning hit the Grayslake area around 6:30 AM about 45 minutes before the first group was to tee off. Play then continued through out the day until a second lightning delay struck the course at 5:14 Pm, that soon also turned into a rain delay as well. At 6:30 Pm play did resume for another 1 hour and 10 ten minutes that allowed a majority of the groups to finish, including the leaders University of Illinois golf coach Mike Small, and partners Medinah's Travis John's, White Eagle Country Club's Curtis Malm. Co-leader Dakun Chang finished only 9 holes but was tied with Small at 4 under par.
Prior to the second delay the leader in the clubhouse was relationship coach, reverend and golf pro Roy Biancalana. Whose last IPGA major championship win was the 2001 Illinois Open at Royal Fox. Biancalana shot one over par in Round two, but was at one under par for the championship. Biancalana who has played only 8 competitive rounds in 8 years, told the assembled media he was tired after a long day in the humid, windy and soggy conditions.
Finishing just before darkness closed in for the day to end play, the group of leaders made it into the clubhouse. Play was called for the day due to darkness at 7:30 PM. The final group putted out at 7:35.
Click here to hear interviews with Roy Biancalana, Travis Johns and Mike Small.
Round 3 start times are yet undetermined, due to heavy rains in the area on Tuesday night.