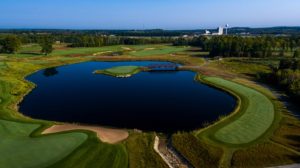 THE 69TH ILLINOIS OPEN contested at The Glen Club, and Ravina Green Country Club, was won by Vince India with a score of 14 under par. Congrats Vince. THE ISLAND Resort and Casino in Upper Peninsula Michigan has opened a new golf course last month called Sage Run. For more information check out Islandresortcasino.com       _____________________________________________________________________
WHEN THE RAIN finally stopped and the good weather arrived, the field at the 69th Illinois Open Championship started making birdies. When it was over Vince India had made a few more of them than anyone else and won his first Illinois Open title.
India's final round of 6 under par 66 at The Glen Club was just enough to avoid a playoff with Brandon Holtz who finished second for the second straight year in a row.
India ended up 14 under par, with Holtz at 13. With this years purse of $98,645 the winners check turned out to be a total of $19,004, due to amateurs making the cut who do not get a check. Holtz the runner-up made $13,063.
India who has battled disc issues in his back this year, has played in seven Web.com tour events and made only two cuts. His total on the money list for 2018, was much lower than he made with the winners check at the Illinois Open.
India had to think strongly about his schedule when he got a last minute sponsors exemption into a tournament in California, and had only 90 minutes to get to O'hare from the Glen Club after the trophy ceremony to make his flight to San Francisco. India admitted he would have a couple of Bloody-Mary's on the plane, and start watching a movie before likely passing out. His tee time in the morning is 9:05 local PST.
For Holtz his late rally came up short, and admitted to a bad shot on the par 3, 17th hole that ended up a bogey. As a result he needed eagle on 18 for a playoff, and almost made it but his putt just missed. For India a playoff was something he could not afford to have. Holtz who still works in the sporting goods industry, selling football helmets and other goods, the Illinois Open was his third tournament of the year. He says after back-to-back runner ups, he will return in 2019.
The shot of the day was hit by Jeff Kellen from Machesney Park that is located near Rockford. Kellen's first shot of the day was on the par 3, 17th hole. A hole he didn't want to start on, but in the end he decided he would take the ace when his tee shot found the cup. While media types were scratching their head as to made the last ace in the Illinois Open, it was Kellen who provided the answer.
"The guy in the group behind me yesterday in Round 2 made one on the 9th hole," said Kellen. That guy turned out to be 2018 IPGA Match Play Champion Garrett Chaussard the teaching pro at Skokie Country Club. Chaussard used a 3 wood from 226, to record his hole-in-one.
David Perkins of East Peoria ended up as low amateur beating out playing partner Brendan O'Reilly from Hinsdale. Defending champion Patrick Flavin made the cut and rolled in a couple of birdies in his final round, to make his first professional check of $1,045 Flavin said he played well, but didn't make enough putts. he will now prepare for the web.com tour school that starts at the end of the month. Flavins former teammate in college at Miami of Ohio, (a) Brian Ohr of Wheeling who made the cut and finished under par, gets 1 day off before heading to his third straight U.S. Amateur at Pebble Peach where he has never played before. Ohr feels he can make the match play this year.
Four time champion Mike Small the university of Illinois golf coach closed with a three under par 69, to finish 8 shots behind India. Small admitted he is ready for a short break after a lot of golf in recent weeks. But says will be ready for the IPGA Section Championship at Stonewall Orchard in 3 weeks, a tournament he has won 12 times.
There was no announcement on next years second course, but the first course will again be the Glen Club.