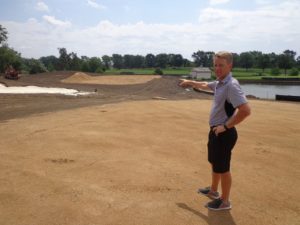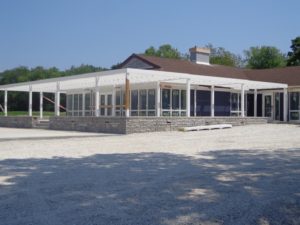 ARCHITECT TODD QUITNO points out changes on the Baer Nine at the Schaumburg Golf Club where work in Phase two of the renovation has started, Schaumburggolf.com for more details and tee times. THE SUNSET VALLEY GOLF CLUB is getting ready to reopen from a 1 year renovation on August 17th with a First on the Turf outing, that is a fundraiser for Junior Golf and the golf programs of the Highland Park Park District. More details on the outing and the reopening of the golf course are found at info@pdhp.org.    _____________________________________________________________________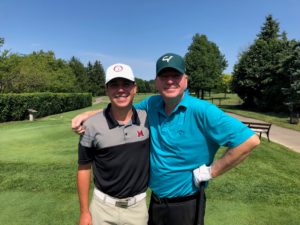 THE 69TH ILLINOIS OPEN TEE'S OFF TODAY at the The Glen Club and Ravina Green Country Club,defending champion Patrick Flavin returns to defend his title and likely as a professional this time around. Patrick and Rory Spears, Director of Content and Creation for Golfersongolf.com on the first tee box at Ravina Green Country Club.
Patrick Flavin heads up one of the strongest fields in recent years in the 69th Illinois Open. the championship and it's field of 268 players is spread out over two golf courses again this year. Players will alternate between the championships permanent home the Glen Club, home of the Illinois PGA section offices and the Illinois Golf Gall of Fame, and Ravina Green Country Club in Riverwoods. The players who make the cut after 36 holes will all play the Glen Club on Wednesday. The low 50 players and ties will survive to play on Wednesday.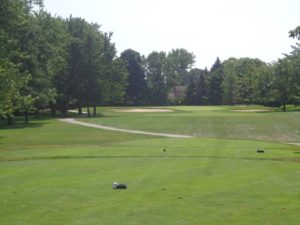 THE GLEN CLUB CLUBHOUSE and the Par 3, third hole at Ravina Green Country Club.
Click here to hear our interview with Patrick Flavin on returning as the defending champion at the 2018 Illinois Open.
The field at this years Illinois Open might be one of the best in recent years. In addition to Flavin there are plenty of others who could compete for the title, and they include both amateurs and professionals.
Mistwood Golf Club's Director of Golf Andy Mickelson has had a great summer in competition, and other local professionals such as Vince India, Brian Bullington, Kyle Kochevar, and Michael Schachner should be in the mix. Top amateur players include Brendan O'Reilly, Trent Wallace, and Tommy Kuhl.
Veteran IPGA section professionals such as  Jim Billiter, Travis Johns, Matt Slowinski and Illinois Golf Coach Mike Small who has played solid in some PGA Champions Tour events, figure to be in the mix.
Both the Glen Club and Ravina Green will play to a par of 72. Admission and parking are free, so come out and support golf and your favorite Illinois golfers as they compete for the title of Illinois Open Champion. Live scoring will be active at IPGA.com.