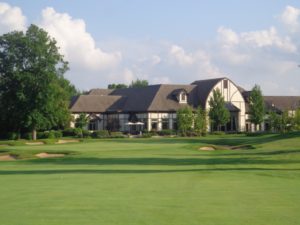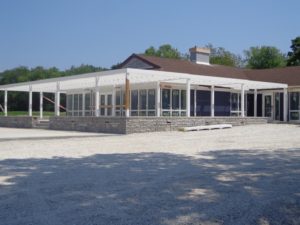 THE SUNSET RIDGE CLUBHOUSE (L) home of this weeks 116th Western Amateur, the championships last playing in the Chicago area until 2021. (R) Sunset Valley's new clubhouse that will open with the golf course on August 19th, see the Highland Park, Park District Website for details on the grand opening, and course information for 2018.  ______________________________________________________________________
OUR LATE EDITION IS HERE!
Editors note *** I'm on the comeback trail from eye surgery, and I am starting to see again. As a result I am looking forward to getting caught up on the golf beat.
This week is the 116th Western Amateur at Sunset Ridge Country Club in Northfield, our preview is next here on the website. RS
THE FRENCH LICK RESORT is asking you if your ready for a great buddies golf trip to southern Indiana. if it's time to take that trip, with the guys or the gals, then it's time for you to check out Frenchlick.com and get it booked. The Pete Dye, the Valley Links and the Donald Ross Golf Course await your names on the first tee. Hit the spa, the casino the and the restaurants. The French Lick Resort is waiting for you. Go hit it. The second annual Sr. LPGA Championship is returning to French Lick this October. Don't miss it.
ERIN HILLS is offering up their PGA Ambassador Rich Tock on their website Erinhills.com to show you on video how to play the famed par 5, 18th hole that 2017 PGA Championship champion Justin Thomas hit Driver-3 Wood and got home in two from over 600 yards in his record setting third round of the U.S. Open. Watch Tock show the mortals how to play the 18th hole, and maybe you like Thomas can play the hole under par in route to your best round on a U.S. Open golf course. (866)-772-4769 for tee times and booking overnight stays. While at Erin hills don't forget to try the new Fescue Rescue, a drink that you need to try at least once. The recipe is on the Erin Hills website check it out.
FIGHTING ILLINI WOMEN'S GOLF COACH RENEE SLOAN, has announced the final addition to her coaching staff, bringing in Pina Gentile from Eastern Michigan University where she spent the last three years as the head women's golf coach. Gentile was a four year letter winner on the golf team at Illinois State during her playing career. She later coached at Illinois State, and Iowa State before moving on the EMU. Coach Sloan says," Pina brings a wealth of experience and knowledge to our program and will be a tremendous asset to our student athletes."
"I am excited to join the Illinois family," said Gentile. "I would like to thank Renee Stone and the search committee for providing an opportunity to be part of a highly respected and successful women's golf program. "
EXCLUSIVELY @9 is now the only company offering season-long, daily opportunities for golfers to win exclusive product.
"Exclusively @9 is helping to attract new players to the game and increase excitement during every round that's played," said Eric Wynne, president and CEO of The Global Collaboration Group, parent company of Exclusively @9. "Courses have the opportunity to implement our program for the same amount of money third part-vendors charge for only booking tee-times. Increased demand reduces inventory, resulting in price increases and greater price stability per round for the course."
Make an ace, or sink a big putt, Exclusively @9 could be there to record it for you and give you an outstanding prize. For more details see Exclusivelyat9.com to learn more.
THE WESTERN GOLF ASSOCIATION has announced live streaming of this weeks 116th Western Amateur at Sunset Ridge CC. Starting with the Sweet 16 match play on Friday and into the championship semi-finals and finals on Saturday August 4th. The live stream can be seen at GolfChannel.com, the Golf Channel mobile App. and the tournament website westernamateur.com.
"This is a significant step forward for us in showcasing our amateur championship and the world's top amateurs who annually compete for the coveted title," said John Kaczkowski, WGA president CEO. "We've watched Phil Mickelson, Jordan Spieth, Dustin Johnson and more compete in the Western Amateur, Now golf fans everywhere will be able to watch golf's future stars face off against one another in golf's most rigorous test."
David Marr III and Scott Walker will call the action being produced by Thaler Media of Palm Beach Florida. Play at the Western Amateur begins on Tuesday. The field is cut to the low 44 and ties after Wednesday's round and the completion of 36 holes.
DATELINE PEBBLE BEACH, Youth on Course, an organization that is seeing record-breaking growth to help provide affordable golf access, is still growing within the state and regional golf association partnerships, having an increase of 120% in the last 18 months.
During our calendar year of 2018,more than 41,000 members are on pace to complete 115,000 at 900-pus golf courses across America. Youth on Course is now in 26 states and has a goal of $5 golf for kids in all 50 states. At the end of 2017 the numbers were 30,000 members in just 19 states.
"There are millions of kids interested in playing golf but might not have the opportunity," said Adam Heieck, Youth on Course Executive Director. "As we continue expanding our membership and national footprint, we're able to provide more young people with access to affordable golf, which is our ultimate purpose."
According to the National Golf Foundation in 2017, junior golfers ages 6-17 make up 11% of all players. In 2017 junior golf is up 12.5% since 2011. In 2018 there are 8 new partnerships, and Youth on Course is active in the State of Illinois. For more information please visit YouthOnCourse.org or call (831)-625-4653. Or visit YOC at major social media outlets.
ROBERT TRENT JONES II Golf Course Architects, has unveiled the first championship golf course in Vietnam. Hoiana Shores will open in mid-2019. The course will be located south of the UNESCO World Heritage Site, Hoi An. Hoiana is a new multi-billion dollar development that will run over 4 miles of coastline.
TITLEIST and SCOTTY CAMERON have introduced the new Cameron CX-01 and CX-02 putters, that will be in pro shops as of August 31st, and worldwide as of September 28. Concept X is a premium putter that offers two prototypes produced is limited quantities for players desiring a high level of performance. CX-01 has a "Nuckle Neck" with one shaft of offset. While CX-02 is designed with a low slant "Joint Neck" that helps create additional tow flow. The putters are a anti-glare Stealth Gray finish. Concept X is for the player that wants the feel and performance of a tour style blade-putter. For more information see Titleist.com or Scottycameron.com.
The Gog Blog returns on Monday, with a preview look at the Western Amateur.