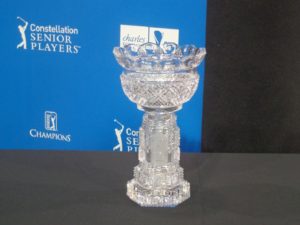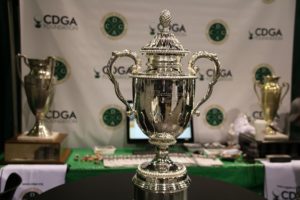 THE SENIOR PLAYERS CHAMPIONSHIP TROPHY (L) AND THE U.S. SENIOR WOMEN'S OPEN TROPHY. IT'S a full week of golf events here n the state of Illinois,     ____________________________________________________________________
She is on the tee, but something is not right, Nancy Lopez one of the greatest women's golfers of all time does not have a club in her hand.
Instead Lopez is dressed up in a navy blue blazer and she has a pile of paperwork in her hand.
Thanks to a classy gesture by the USGA, Lopez has a role this week at the first U.S. Sr. Women's Open, she is the honorary starter.
If the senior women's open had started 10 years ago Lopez has no doubts she would be playing. But now after a knee replacement and work on both knees, that might yet require another surgery, Lopez just takes in this weeks atmosphere with the smile she is known for.
Click here to hear our interview with Nancy Lopez, on the first U.S.Sr. Women's Open.
The championship has been moved up on the calendar to May in 2019 at Pine Needles resort in Southern Pines North Carolina. As a result if Lopez has more knee surgery this fall, she might not be where she belongs next year either, but she could be back on the tee making sure her fellow professionals all get a proper introduction before they tee off.