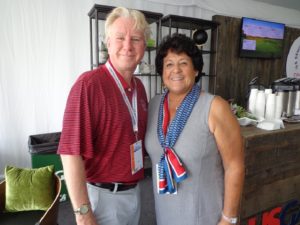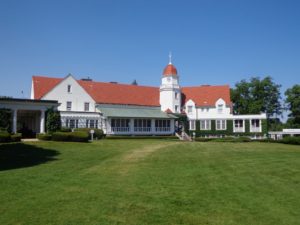 HALL OF FAMER NANCY LOPEZ IS working not playing at this years U.S. Sr. Women's Open as she recovers from knee surgery, hear more from the LPGA Legend in our interview with her tomorrow Saturday July 14th. The U.S. Sr. Women's Open is moving up tee times for Saturday's 3rd round due to expected bad weather, see USGA.org for details. SECOND ROUND LEADERS, With 36 holes in the book and the cut at +12, Trish Johnson and Laura Davies are tied for the lead at 4 under par. Juli Inkster is in third at -1 under par, and Danielle Ammacapane is 4th at even par.              ______________________________________________________________________
IT'S U.S. SR. WOMEN'S OPEN WEEK  at the Chicago Golf Club.
As part of Golfers on Golf's coverage of the event, I requested the USGA make CEO/Executive Director Mike Davis available for an interview. In fact Golfers on Golf Radio has been requesting Davis for the last fours years to come on the show. For a variety of reasons that has not happened.
After efforts fell short last year, in advance of the U.S. Open at Erin Hills, the USGA said they would provide Davis this year in advance of the U.S. Sr. Women's Open, and they did. I was informed last week that a radio show appearance was not possible, but Davis would speak to me in a 1 on 1 format at the Chicago Golf Club. It was requested I keep my questions to discussing only the U.S. Sr. Women's Open, and no other topics, which for the most part is what I did.
Davis to his credit did not cancel me yesterday in spite of a high ranking USGA staffer announcing her departure from the organization, that required his immediate attention after the opening ceremonies at the Chicago Golf Club.
In our 20 minutes together I covered several aspects of the brand new championship, and what could he tell me about another USGA Championship headed Chicago's way in the future.
Davis shed some light on how the CDGA dinner was actually the ice breaker on getting the Senior Women's Open to Chicago and the Chicago Golf Club. RS.

Click here to hear our one-on-one interview with USGA CEO and Executive Director Mike Davis.
Golfers on Golf Radio AM 750 AM tomorrow morning (Saturday) will play part of this interview live on air.