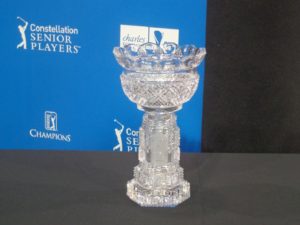 THE SENIOR PLAYERS CHAMPIONSHIP at Exmoor Country Club in Highland Park Defending Champion Scott McCarron heads up a strong field that includes Bernhard Langer, David Toms and Jerry Kelly. Tickets available at SPCGolf.com. THE JOHN DEERE CLASSIC has defending champion Bryson DeChambeau back to lead a strong field at TPC Deere Run, it includes Doug Ghim and Nick Hardy. Johndeereclassic.com   _____________________________________________________________________
THE INAUGURAL U.S. SR WOMEN'S OPEN at the Chicago Golf Club. History will be made when JoAnne Carner hits the first ball into play at 7 AM tomorrow morning.
The week at the Chicago Golf Club started on Monday like a high school reunion, as players who have been competitors for years all got reunited.
They all hugged and took pictures together, and asked questions about who was here and who wasn't. They all felt bad that players like Nancy Lopez (knee replacement) was not playing, a change in tune from back in the days where they wished players like her would take a week or two off from the LPGA Tour.
For some players the wait has been a long one for this championship, JoAnne Carner a winner of two U.S. Women's Open Championships, and a few other USGA titles, now at 79 wondered if she would live to see this championship ever be played. ow She frequently shoots lower than her age, and she will put the first shot of the championship in play just after 7 Am tomorrow. She wanted it known that she is not just here to be ceremonial golfer, she wants to make the cut and play all four days. That us after she played 18 holes of practice rounds on Monday, Tuesday and Wednesday.
USGA CEO/Executive Director Mike Davis will say a few words before the national anthem is sung, and then it will be play away. Pat Bradley made it clear that she has been waiting for 16 years for this tee time, and she didn't want to miss it. the good thing is now she wont have to.
Laura Davies wondered if she could take her television on the golf course to watch the World Cup of Soccer. Juli Inskter suggested Shinneock Hills as future site for the championship, so the USGA could have a do-over, and get it right next time. PGA of America Vice President Suzy Whaley is glad to have qualified and can play in a major and can let the USGA do the heavy lifting, while she just plays golf in this non-PGA of America event.
But tomorrow, the fun changes into some serious competition, all 120 of the players want the trophy and the professionals want the check. many would love the novelty of being the first woman to hold the trophy.
Click here to hear interviews with Laura Davies and JoAnne Carner.
Who does have a good chance to win. Juli Inkster who still plays with the younger gals on the LPGA Tour is the pick of many. But England now has a better shot in golf than it does with it's world cup team to win. LPGA Senior Players Championship winner Trish Johnson who won last July on the Pete Dye Course at the French Lick Resort is expected to be in the mix along with Davies. A major win for Davies should get her in the Hall of Fame. Liselotte Neumann with two wins on the Legends Tour this year is the final member of the foursome.
For some players that have not played real serious competitive golf in a few years, winning this week might be asking a little but much. But when it's all said and done, the championship that had been closed for so many years, is now open for business, and it appears it is here to stay.
The Chicago Golf Club will be set up to a yardage of just over 6,000 yards and will play to a Par of 73, with the Par 4, 18th hoe being changes to a Par 5 for the championship.
Golfers on Golf will have more reports from U.S. Sr. Women's Open all week long. Stay clicked in.