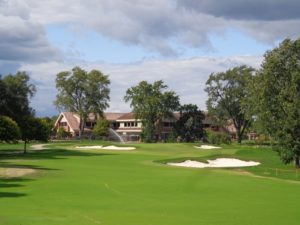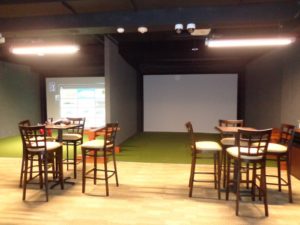 THE SCHAUMBURG GOLF CLUB AT 401 N ROSELLE ROAD has reopened it's Players Nine, and newly expanded driving range and putting green. Phase 2 of the renovation has started and now the Baer Nine has closed and will reopen around July 1st of 2019. For more details visit schaumburggolf.com or call (847)-885-9000. While at the club, enjoy Chandlers Chop House for food and beverage  or the golf simulators.    _____________________________________________________________________
THE 2018 SENIOR PLAYERS CHAMPIONSHIP at Exmoor Country Club in Highland Park tee's off this week on Thursday July 12th. With the final round being played on Sunday the 15th.
The Accenture pro-am is on Wednesday along with other activities that day, which is the first day that Exmoor is open to the public.
Defending champion Scott McCarron who won in 2017 at Caves Valley in Baltimore, heads up a strong field that includes Bernhard Langer, U.S. Sr. Open Champion David Toms and Wisconsin's very own Jerry Kelly. From the Illinois area or with local ties other players include Barrington Native Gary Hallberg, former Hinsdale Resident Jeff Sluman, and Illinois Golf Coach Mike Small. Kelly heads up a group of seven former Western Open Champions, that does not include Steve Stricker who will skip the championship to play at the John Deere Classic. Speaking of John, "Long John Daly' will play at Exmoor.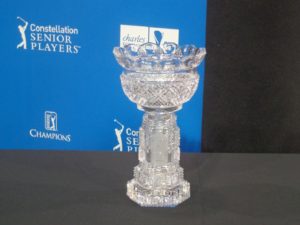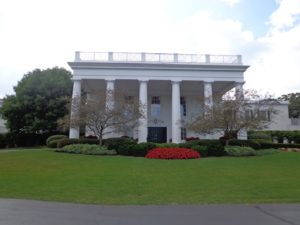 THE SENIOR PLAYERS CHAMPIONSHIP TROPHY and the front of the famed Exmoor Country Club. clubhouse.
The yardage for the championship will be 7,149 and the course record at Exmoor is by Jake Higginbottom while playing a practice round for the 2012 Western Amateur. Higginbottom is a professional. The Western Amateur was supposed to be played this tear at Exmoor but was moved back to 2022 so the club could present the Seniors Players Championship.
Click here to hear WGA Sr. VP of Tournaments Vince Pellegrino discuss this weeks Senior Players Championship.
Click here to hear our interview with Champions Tour Player Fred Funk at Exmoor Country Club on media day.
Exmoor (1896) is the third oldest club in Illinois as only the Chicago Golf Club and Onwentsia are older. Famed architect Donald Ross designed the golf course in 1915, while architect Ron Pritchard did the renovation in 2003.
There are different ticket packages available for the week, to oder tickets in adavnce please visit SPCGolf.com. Parking will be off site and spectators will be bused into the championship.