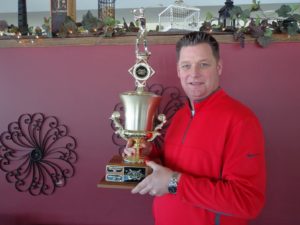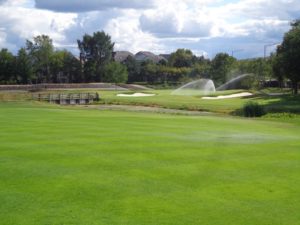 BLACKBERRY OAKS GM AND HEAD GOLF PROFESSIONAL CHAD JOHANSEN, holds the Blackberry Amateur trophy. The Blackberry Amateur will be played on June 23-24th, the championship is sponsored by Wilson Golf and Michelob Ultra. Sign up at Blackberryamateur.com and play in this top Chicago area amateur golf event. THE DATE is set for the Schaumburg Golf Club to reopen it's Players Nine, and new putting green and that is on June 30th, and Baer Nine will close on June 30th. For more information see Schaumburggolf.com or call the club at (847)-885-9000. #phase1done   _____________________________________________________________________
THEY DID IT AGAIN, the CDGA Amateurs rallied on the back nine to win the Radix Cup by a 10-8 score, the same score they won the tournament by in 2017. The IPGA professionals led the battle for the cup 4-2 at the turn.
The day was not without some exciting moments and a Radix Cup first. In all there are six matches and in match #6, it didn't long for Kemper Lakes professional Jim Billiter to hit a shot for the record books. After hitting a drive he didn't like on the first hole, Billiters second shot a 3-wood from 257 (another shot he didn't like) on the Par 5 first hole found the cup for a Double-Eagle 2. Bang 1 Up. It wasn't more than 10 minutes later on the par 3, 6th hole, that amateur Dave Ryan's 4-Iron from 200 yards found the cup for a hole-in-one.
Even earlier new Oak Park head golf professional Carson Solien and host professional started his first Radix Cup without and clubs. Minutes before tee-time Solien realized his clubs were still at his home, so he sent his caddie to go pick them up. They arrived on the first green, so his partner and assistant professional at Oak Park Ryan Peavey played solo on the first hole. The match was eventually halved.
Click here to hear the interviews with CDGA's Dave Ryan, and IPGA professionals Carson Solheim and last Jim Billiter, who also talks about final preperations at his club for the upcoming KPMG/Women's PGA Championship coming up later this month.
With the back-to-back wins in the tournament for the first time by the CDGA team since 2011-2012, the all-time series is now at 35-20-2 in favor of the professionals.
The lead in the tournament went back and forth, and was tied at 8-8 with the matches down the final group on the back-nine. But after losing the point on the front nine, CDGA amateurs Matt Murlick and Greg Bauman, earned two points on the back-nine against Billiter and Dakun Chang to win the cup for the amateurs.