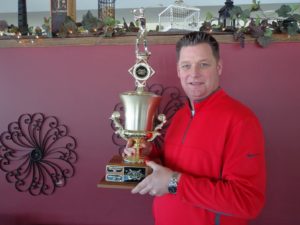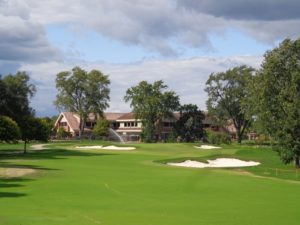 BLACKBERRY OAKS GOLF COURSE GENERAL MANAGER CHAD JOHANSEN, holds the Blackberry Amateur Trophy, the Blackberry Amateur is played On June 23-24 so visit Blackberryamateur.com and sign up today, the event is sponsored by Wilson Golf and Michelob Ultra. THE SCHAUMBURG GOLF CLUB is going through a three year renovation, and the Players Nine is almost set to reopen, and when it does the Baer Nine will close. The new putting green is about to reopen as well, for details follow this site or Schaumburggolf.com or call (847)-885-9000, the new range is now open. ______________________________________________________________________
IT'S US OPEN WEEK and the 118th U.S. Open tee's off this week from the Shinnecock Hills Golf Club in South Hampton, on Long Island in New York.
Brooks Koepka is the defending champion after his win at Erin Hills in Wisconsin last summer, Koepka shot a lights out 16 under par to win the championship. Which in the end doesn't very U.S. Open like, but the set up of Erin Hills allowed for that to happen. Along with some great conditions for the golfers to play in. Some rain to soften things up, and very little wind. That being said that won't happen again this year.
Shinnecock Hills superintendent Jon Jenning and I spoke at length a few weeks back, and he confirmed to me last night via-email the course was ready to go for the week ahead. (see my story in Chicagoland Golf this months issue) Which means, get ready, here it comes. From my talk with Jon and reports from those on site, the rough is up, the length is back 450 yards from the last open at Shinnecock in 2004, and par is still the same at 70. There are nine new tee boxes that  USGA CEO/Executive Director Mike Davis can use this time around and many of them he is likely to use.
I played Shinnecock a few years back on a nice fall day 73 degrees and wind at only 10-20, of course Jennings crews were out sanding fairways in front of me, so I needed the 56 degree when I did hit fairways (LOL). Shinnecock takes some getting used to, and about the third hole I found out why some pros compare it to Erin Hills. The stretch holes on back nine was were it kicked in for me. I made par on 14,15,16,17 and just missed one from 15 feet on 18, but one over par for the last five holes works for me.
What doesn't work for me, is the flip-flops by the people in my business on the U.S. Open. First up, a few years back Davis was getting credit for finding a few new venues unlike what was going on with the PGA Championship, now he seems to be taking heat for Chambers Bay and Erin Hills. i give him credit for trying new idea's. Chambers Bay might not be a winner, but Erin hills can still be. One national writer called Erin Hills toothless this week, toothless, seriously. Erin hills could have been set up harder, but it wasn't to be on the safe side. As a result Koepka went wild.
The great thing about what Davis did, was move golf around the country. Golf has such a better presence than say tennis in this country, is that there are three majors here in the USA, and two of them move around so people everywhere see the best players up close. Call it marketing, but it works. The USGA and the PGA of America have to learn to not overload the New York area. What could be interesting is that with the schedule change, the talk is that there are some northern based courses that won't be able to host PGA's anymore, but maybe those courses get back in the game for U.S. Open's and the USGA needs to think that way as well.
THE USGA gets a double-bogey for it's pairing of Dustin Johnson, Justin Thomas and Tiger Woods for rounds rounds 1&2. WHY. World #1 #2 and #80. Seriously ? what's Woods ever done at Shinnecock. Oh that's right, he got carried away on a cart after getting hurt in 1995, when he hit a ball out of the deep rough. Ah memories.
IT'S been ten years since Woods won the U.S. Open, and without a top finish this year, he gets to go through qualifying in 2019 to make his way back to Pebble Beach. I'll be watching to see who messes up coverage, and who does a great job this week spraying it around to everyone. ATAD and you get tee'd up for bad coverage.
ERIN HILLS has announced they have added a plaque in the 18th fairway where Justin Thomas got home in two from during Saturday's third round. Check out Erinhills.com to see what the plaque looks like.
Global Golf Post gets a bogey for today, and all the online folks that made a big deal on Tigers yacht pulling in, really? Where is DJ's car and or Phil's plane, spray it around please. I 'll have more on the U.S. Open all week long.
HAS THE RUST OLEUM CHAMPIONSHIP seen it's final year in Chicago. The contract is up and over, and maybe it doesn't return.
CEO Tom Reed of Rust Oleum who helped bring the championship to his club Ivanhoe has just retired and the company could go in another direction. Might Rust Oleum go in another direction here in town, while speculation is that the championship is done here in Chicago, could it be a great fit at another course or courses around town. Rotate it to places like Mistwood, or the Preserve at Oak Meadows, Cog Hill or other places. Ivanhoe might just have been a bit far out for folks to drive to. The was enough local talent to root for, and more folks should have made the track out to see the championship. Give Rust-Oleum credit for trying, I hope they return, but I'm not holding my breath.
ART SCHAUPETER who designed the highly rated Highlands of Elgin, and worked with Greg Martin on the Preserve at Oak Meadows, just finished TPC Colorado just north of Denver, and this outstanding course is getting a Web.com event in 2019, maybe the dates of Rust Oleum too, any players in the Denver field would have a short commute to Pebble Beach for the U.S. Open next year. Stay tuned.
THE RADIX CUP is on for Wednesday at Oak Park Country Club, admission is free, come out and enjoy some good golf on this old Donald Ross Classic.
It should be a great week for golf, good weather in town, and in the 90's for the weekend, so say the weather people. Go Play and watch the open. RS