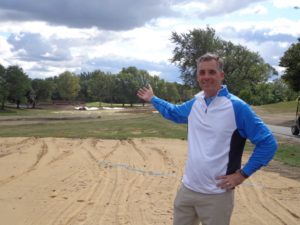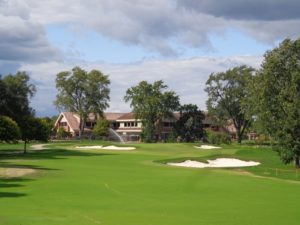 SCHAUMBURG GOLF CLUB GM/HEAD GOLF PROFESSIONAL JON PARSONS points out the renovated first hole on the Players nine which will reopen shortly, and when it does the Baer Nine will close for renovation. The newly expanded driving range is open and the new large putting green will open shortly . For more information on the Schaumburg Golf and it's three year renovation program, see Schaumburggolf.com or call the club at (847)-885-9000, while there, grab a bite to eat at Chandlers Chophouse,  _____________________________________________________________________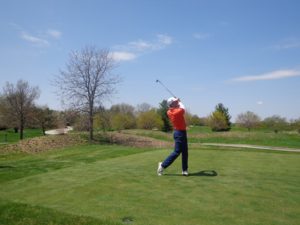 THE RUST OLEUM CHAMPIONSHIP is under way at the Ivanhoe Country Club in Mundelein, come out all weekend long and see the Web.com Tour in full swing with plenty of our local players, including Nick Hardy in his first professional tournament.
THE GOG BLOG by RORY SPEARS, Director of Content and Creation, Follow Rory on Twitter @GogBlogGuy, or on Linkedin and Facebook. Rory will host Golfers on Golf Radio on Saturday Morning on Am 750 WNDZ Chicago, tee time is 10 AM, join us.
Maverick McNealy shot an 8 under Par 64 to take a one-shot lead after 36 holes at the Rust-Oleum Championship at the Ivanhoe Golf Club. McNealy is at 12 under par and  holds a one shot lead over  Kyle Jones who shot 67.
McNealy's round included 6 birdies and an eagle, with one of those birdies coming on the last hole to take the lead.
Former University of Illinois standout Nick Hardy, playing on a sponsors exemption and in his first tournament as a professional, shot a second round 5 under par 67, to make the cut by two shots. Hardy was the Big Ten Player of the Year in his senior season at Illinois. Hardy's only bogey of the day came on his last hole.
Two former Iowa Hawkeyes Brad Hopfinger of Lake Forest, and Vince India of Deerfeild also made the cut, Hopfinger is T-4 at 8 under par. and India made the cut right on the number at 3 under par.
2003 Masters Champion Mike Weir is in the field, and carded a second round 5 under par 67 to reach six under par., after his round he spoke with reporters.
Click here to hear the interview with former Masters Champion Mike Weir.
First round leader Wes Roach carded a 1-under par 71, and is now in 9th place at 7-under par. Web.com tour money leader Sungjae Im of South Korea, shot a six under par 66 to make the cut. He is one of the six players playing this week at the Rust-Oleum Championship who is in the field in next weeks U.S. Open.
Golf fans come out and enjoy the final two rounds of the Rust-Oleum Championship over the weekend at the Ivanhoe Country Club in Mundelein.