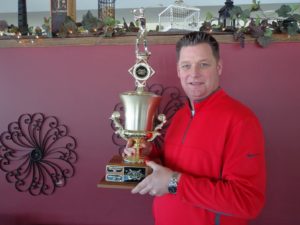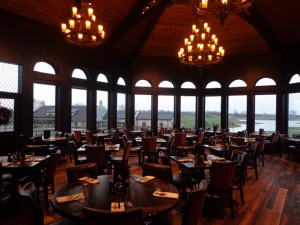 CHAD JOHANSEN the head golf professional at Blackberry Oaks in Bristol holds the Blackberry Amateur trophy, the Blackberry Amateur will be played June 23-24, this year it's time to FILL THE FIELD at 120 players. To sign up visit BlackberryAmateur.com or call Blackberry Oaks at (630)-553-7170. IT'S MORE THAN GREAT GOLF at Mistwood Golf Club in Romeoville, visit McWethy's Tavern and enjoy some great food and beverage before or after your round, in fact McWethy's is so good that you don't even need to be golfing that day to stop in and spoil your taste-bud's. Mistwoodgc.com           _____________________________________________________________________
IT'S ALL OVER, the golf season for the University of Illinois Men's Golf Team, ended abruptly yesterday at the NCAA National championships in Stillwater Oklahoma.
The field started with 30 teams and after Round 3 on Sunday, the field was cut in half to 15 teams. While Northwestern University who was the first round leader, was the best team eliminated, the Illini held on barely to live and fight for another day.
While the Illini made a bit of a charge in round 4 it wasn't enough to advance to the match play part of the championship that begins today for the final 8 schools. Illinois ended up 8 shots out of the match play.
It marked the end of the careers of seniors Dylan Meyer and Nick Hardy. Meyer took to Facebook this morning to thank everyone who helped him have a four great years at Illinois. Meyer took 4th individually at the nationals in the stroke play part of the championship.
For Nick Hardy he ended up in 32nd place and was +4 for the stroke play part of the championship. Earlier in the week hardy was named to be a PING All-American First team member. Joining Hardy was University of Texas senior Doug Ghim who just won the Ben Hogan award, Ghim hails from Arlington Heights Illinois.
Illinois Coach Mike Small called his team final round, "a good effort."Our front nine was solid and we put ourselves in position to do something special, and then on the back nine we got off point a little to often."
Coach Small said this about his two decorated seniors," It was a pleasure as a coach to have Nick and Dylan for four years, all the success they have had individually and as a team will leave a legacy that will last for a long time. As their coach I will always remember their strong commitment to this program and the University of Illinois."
The Men's team at Illinois next year will have five returning players including bryan Baumgarten, Michael Feagles, Brendan O'Reilly, Giovanni Tadioto, and varun Chopra. Four new players join the team, including Luke Armbrust of Wheaton, Tommy Kuhl of Morton Illinois, Noah Gillard of Greenwood Indiana, Adrien Dumont from Belgium
hardy will now turn professional at the Rust Oleum Championship next week at Ivanhoe Country Club in Mundelein, and Meyer is also expected to turn professional at some point this summer as well.