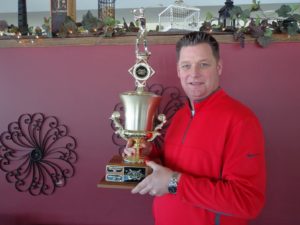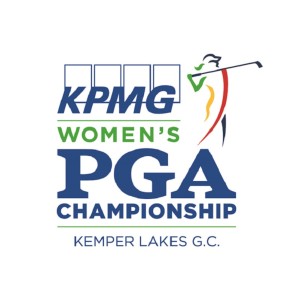 BLACKBERRY OAKS GENERAL MANAGER and head golf professional Chad Johansen, invites you to take part in one of the most fun amateur golf tournaments of the summer, The Blackberry Am on June 23-24, see the Blackberry Amateur website or call (630)-553-7170 to register, let's FILL THE WHOLE FIELD at 120 players this year. KPMG the Women's PGA Championship coming June 28 to July 1st at the Kemper Lakes Golf Club in Kildeer, tickets are on sale now, Danielle Kang is defending champ.  _____________________________________________________________________
RAIN, RAIN Go away, for the second straight day it is pouring outside, and you can hope for is that all the local golf courses have great drainage. :Last night my clubhouse had to get at least two inches of rain if not more.
It's media week for the Ladies KPMG PGA Championship which tee's off the last week of June at Kemper Lakes in Kildeer.
Yesterday there was a conference downtown with some tournament officials before defending champion Danielle Kang, and former Chicago Bulls star Toni Kukoc hot a few shots out to an island green in the Chicago River, which had an actual green in it, and no it was not dyed green like on St. Patrick's Day. Kang's first shot landed on the green, and Kukoc later landed a shot in about six feet from the flag according to observers. At least the rain stopped long enough for Kang and Kukoc to hit.
Kukoc by the way was filling in for Cubs star Kris Bryant who instead hit his Home Run shot at Wrigley Field, but it wasn't enough as the Cubs make up game with the Atlanta Braves was a 6-5 Braves win. Former Bears player Brain Urlacher could have been the sub, but his appearance fee was rather steep and KPMG and the PGA took a pass, and were smart to do so.
ILLINOIS, the Men's Golf Team is off to a great start in Columbus Ohio at the NCAA Regionals, sitting in third place. Five teams will advance to the NCAA nationals in Stillwater Oklahoma. More great news is that Northwestern is in Fourth Place and has a great chance to advance as well.
For Illinois Michael Feagles at 3 under par (68) is the co-leader in the clubhouse, with Seniors Dylan Meyer and Nick Hardy T-8 at even par. For the Wildcats of NU Everton Hawkins leads the way, after shooting a one over par 72. Go Illini, and Go Cats, all the way to Stillwater.
IF YOUR WONDERING about my thoughts on the Players Championship, of course it was surprising that old TW made the cut, by a shot. Of course when your T-70 after 36 holes, and 14 shots back, it's easy to come out and wheel and deal with no pressure. Oh and BTW, that splash you heard on 17, the island green, you betcha.
I'll have more this week, and some input and the Supreme Court sports betting ruling made on Monday, that allows all 50 states to have sports book betting. RS