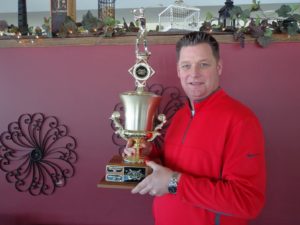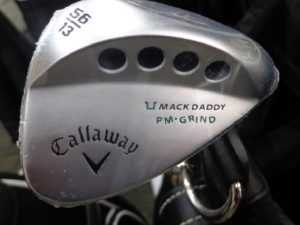 BLACKBERRY OAKS GM/PRO Chad Johansen holds the Blackberry Amateur Trophy from the Blackberry Amateur, that will be played June 23-24,  Blackberryamateur.com or call (630)-553-7170 for details. Let's FILL THE FIELD, at 120 players. The New Mack Daddy Callaway Wedges by Roger Cleveland, Callawaygolf.com. Up your short game.   _____________________________________________________________________
The first IPGA Major Championship of the year goes to Garrett Chaussard the teaching professional at Skokie Country Club, in Glencoe.
Chaussard earned his first major with a 3&2 win over Chris Green of the Glen View Club in Glenview, at the kemper Lakes Golf Club in Kildeer.
It was Green who had the early lead at 1 UP through seven, the match went all back to All-Square after Green bogeyed 8. Chaussard made par on 9 and he took a 1 UP lead into the back nine.
On the par 3, 13th hole Chaussard hit it 12 feet from the cup and made one of the few birdies in the final match. This coming after both players struggled on the par 4, 12th hole.
Green tried to comeback on 14 after hitting his approach to 10 feet,but  could not convert and the hole was halved.
Both players then made par's on the par 5, 15th hole. On the 16th hole, both players hit the fairway and then Green missed the green with his approach shot landing in a greenside bunker.
Chaussard then put the heat on Green, when his approach found the center of the green, 20 feet from the cup.
After blasting out of the bunker, Green's attempt for par slip past the edge of the cup, and with that the match closed out, and Chaussard had won his first section major championship, by a score of 3&2.
The weather conditions for the championship match were sunny, but windy. Earlier in the week play got delayed due to rain and cold temperatures.
Click here to hear our interview with IPGA Match Play Champion Garrett Chaussard from the Skokie Country Club.
Defending Champion and host professional Jim Billiter of kemper Lakes was defeated in Round 2 of the championship on the 18th hole by Brett Packee.
The Gog Blog Speaks Out returns tomorrow.