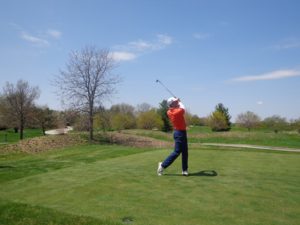 ILLINOIS SR. AND SOON TO BE PROFESSIONAL NICK HARDY hits a drive at the Rust Oleum-Championship preview day. Tickets on sale rustroleumchampionship.com.  ______________________________________________________________________
While the Illinois Men's golf team has made a regular habit of going to the NCAA National Championships, the schools women's team is looking for their first visit.
Today they have their chance to make program history. Six teams at the Wisconsin regional will advance to Stillwater Oklahoma and the nationals at Oklahoma State University.
Currently headed into the final round Illinois sits in a tie for 6thplace with Northwestern and Ohio State at a score of 1 over par for 36 holes.
"Tomorrow we are going to continue to remain focused on our process and what we can control," said head coach Renee Sloan. "We will keep the energy positive and enjoy the opportunity
Jan Prapassarangkul lead the way for Illinois with a round that included five birdies and a three under par 69 score. The Senior sits in 16th place overall.
Duke University is in lead at 14 under par, Virginia is second place at 6 under par and USC is in third place at 3 under par. Defending national champion Arizona State is fourth at 2 under par tied with Oregon State,
Tee times begin at 8 Am CST today, and the fate of the Illini should be determined by early afternoon.