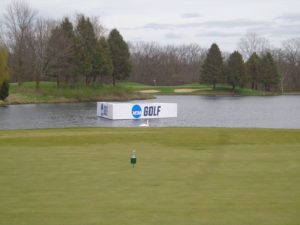 CHICAGOLAND GOLF PUBLISHER VAL RUSSEL holds up the first issue of 2018, but now you can pick up the third issue of the season at your favorite course or golf retail store. NCAA golf is on the road to Stillwater Oklahoma and the National Championships ______________________________________________________________________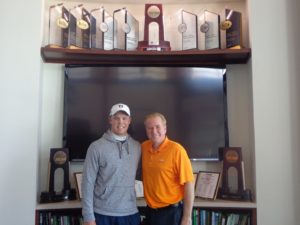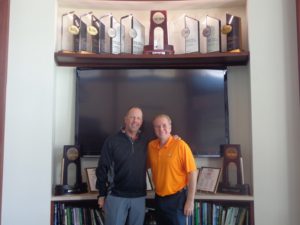 NICK HARDY (L) in the University of Illinois practice center, on the right Illinois men's golf coach MIKE SMALL. Hardy and Small both with Golfers on Golf Radio writer and radio host Rory Spears. Follow Rory on Twitter @GogBlogGuy and on Facebook and Linkedin. Golfers on Golf Radio air's Saturday mornings on Am 750 WNDZ Chicago.       _____________________________________________________________________
They did it again. Last weekend the University of Illinois Men's Golf Team won their fourth straight Men's Big Ten Title at the Baltimore Country Club. Senior Nick Hardy won the Big Ten Championship for his second time at Illinois, the first time being his freshman year. As a result Hardy was named Big Ten Player of the Year, and Small was named Coach of the Year.
Earlier today, Golfers on Golf spoke with both Coach Mike Small, and Nick Hardy on the Big Ten Championship, the NCAA regional ahead and closed with some thoughts on their individual summer plans, that include Hardy turning professional at the Rust Oleum Championship the first week of June.
Click here to hear the interviews with Illinois men's golf coach Mike Small and University of Illinois senior Nick Hardy, The Big Ten Player of the Year.
Golfers on Golf Radio will recap the Big Ten Championship this coming Saturday morning on Am 750 WNDZ Chicago starting at 10 AM. Nick Hardy will be a guest host of Golfers on Golf at some point this summer, date TBA.