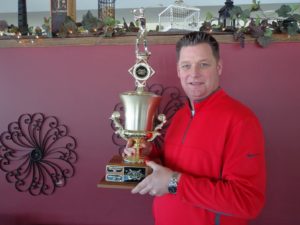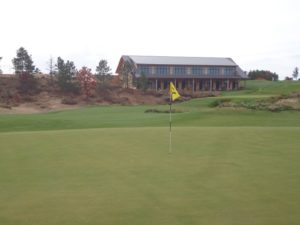 BLACKBERRY OAKS GM Chad Johansen who also serves as the clubs head golf professional, holds the Blackberry Amateur trophy. The Blackberry Amateur will be played June 23-24, this years goal is to fill the field at 120 players. So lets make it a sell out at Blackberry Oaks, sign at Blackberryoaks.com, or blackberryamateur.com or call Blackberry Oaks at (630)-553-7170. THE SANDBOX at Sand Valley Resort i Nekoosa Wisconsin Opens today, golf the newest par 3 Course in America, created by Bill Coore and team. See Sandvalleyresort.com David Kidd's Mammoth Dunes Opens May 30th.    ______________________________________________________________________
84 DEGREES TODAY, yes a bit windy but after the awful spring we have had, I'll take it, and so will you I would think, Go Play !
If there was no spring, and the summer is almost upon us, that would be great. I'm so ready to swing the clubs.
As I move into the golf season ahead, i was just looking forward to hitting the 500 Club this year. Earlier this spring I wrote about joining the 500  Club (as in different courses played) in my April story in Chicagoland Golf. I was hoping that I could just have some fun with courses I played leading up to a special course #500 and that could happen. But what lies ahead are some challenges, that are more difficult that a Pete Dye bunker.
FIRST UP-MY EYESIGHT. After some minor struggles with my eyesight in recent months, a trip to the eye doctor revealed some bumps on the eye from a dry eye condition (via years of allergy medications) and cataracts in both eyes that will require laser surgery. The good news is that all is cure-able, and by late summer I should no longer need to wear glasses anymore. I am looking forward to that, but the next couple months until all is settled won't be a lot of fun. It will also limit how much golf I play. I'm still good from about 140 yards and in, but following my drives and fairway woods is now a challenge. I don't like asking the rest of my foursome where my ball went all the time. If you face vision challenges, get you eyes checked, it's worth it. I'll have more on my procedures as the process moves along. Open your golf experience to views you might not have had in recent months or years.
CLUB CHANGES even if your pretty stubborn and loyal to one brand of club as I have been for years, sometimes there comes a day when you realize the market is changing and there are other equipment options that can help your game.
In the last two plus years, Chicago area Callaway Golf representative Paul Schlimm has opened my eyes (pun intended) to the new direction of Callaway. From CEO Chip Brewer and everyone on down, Callaway Golf is doing things that other companies are not doing, and they are growing as a result. Not closing down like the Swoosh team. I got to play the back end of last summer with a new Callaway Epic Driver, and Callaway Steelhead fairway woods. I quickly carved my handicap back into single digits for the first time in about 7 years. I got the Steelheads through a fitting at True Spec Golf in Highland Park and my fairway wood game saw a major improvement. The fact that I was repeatedly hitting fairways with my Epic driver helped also helped. I have gone through several testings and using a Callaway Chrome X golf ball works just as well for me as the Pro V1x did for years.
While the Callaway  golf ball might not be better than Pro V1, it certainly these days is just as good. I have now hit the Callaway Rogue line of clubs and they are really good, and nothing else I have hit or played in recent years compares. Callaway Wedge designer Roger Cleveland has hit a home run with his new Mack Daddy Wedges, and I am looking forward to a fitting on those as well. Once the eyes are dialed in, it will be time to do the same thing with new golf clubs.
IT IS A couple of big humps to get over this summer, but I am looking forward to the long term benefits for years ahead.
LONG TERM BENEFITS seem to be in-store for the Northbrook Park District as they plan to do a major renovation to the entire Sportsman's Country Club property. The park board is listening to final presentations from teams of both golf course and clubhouse architects for a new plan for Sportsman's. (see our story here from last Friday). The NBPD hopes to start work late next summer, and the property would likely be closed for at least a year and probably longer. A course re-routing, movement of the driving range, clubhouse, and elimination of the miniature golf course are in the works.The concept of having two types of architects working together as a team is very interesting one, But could save some problems on backside of putting the design together.
CONGRATULATIONS  to the University of Illinois Men's Golf team, Coach Mike Small and Senior Nick Hardy of Northbrook, who won his second Big Ten Title. For Illinois it's their fourth title in a row, and 9th in the last ten years. Both Coach Small and Nick Hardy will sit for a 1 on 2 with me this week on the big win, and what's ahead in the NCAA post season.
OUR RADIO SHOW guest host this week is Mistwood Golf Club's Director of Golf, Andy Mickelson who just won the IPGA first stroke play event of the season with a 69 at the Merit Club. Andy will get to play, ASK THE BOSS, when Mistwood owner Jim McWethy calls in. Join us Saturday morning at 10 AM on Am 750 WNDZ.
The Gog Blog returns this week, stay clicked in. RS