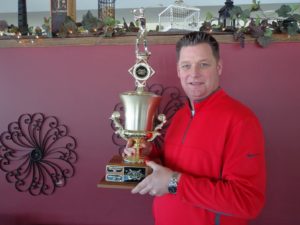 BLACKBERRY OAKS GM/PRO Chad Johansen holds the Blackberry Amateur trophy. The Blackberry Amateur will be held June 23-24 and it's time to #FILLTHEFIELD, there is room for 120 players, this years event sponsored by Wilson Golf and Michelob Ultra, sign up at BlackberryOaks.com or call (630)-553-7170, Blackberry Oaks home of the Perfect Putting Aid, and the Guide for Golf. TOO COLD YET OUTSIDE, keep it inside at McQ's Dome in Bolingbrook, the top Chicago area indoor golf dome, work on your game with the Mistwood Golf Club professional staff, or visit the OTB, Mcqsdome.com    ______________________________________________________________________
2018 is an exciting year for the PGA of America, it's a Ryder Cup year, where the USA looks to defend it's win at Hazeltine in Minnesota, by winning again this time in France.
The 100th PGA Championship will be played at Bellerive Country Club outside of St. Louis. It will be the last time, at least for a while the PGA Championship will be played in August, before moving to May.
There is more news on the PGA's future that has been written in recent days, the PGA of America offices are expected to move to Frisco Texas, about 20 miles North of Dallas. If the PGA moves to Frisco there would also be several courses built there, as many as four have been reported. One report has the first course being built by Gil Hanse. But now Hanse has the hot hand and his name gets tossed around almost any new project on the board. As for a Hanse to build a course in Frisco, lets wait and see. There is some speculation that two of the four courses would be designed with the PGA Championship and the Ryder Cup in mind.
Golfers on Golf caught up with Jim Richerson the current Secretary of the PGA of America during the PGA show in Orlando Florida, Richerson also discussed his recent jump from Kohler Company in Wisconsin, to Troon Golf based in Arizona to start a new chapter in his career.
Richerson had an exciting run in Kohler where he played a key role in both the 2010 and 2015 PGA Championships. He worked with the Kohler family and the legendary golf architect Pete Dye to improve the famed Whistling Straits Golf Course for both championships and every day play by the resorts guests. Richerson also was instrumental in the USGA's and Women's Open return to Blackwolf Run in 2012.
CLICK HERE to hear the interview with PGA of America National Secretary Jim Richerson.
For more information on the PGA of America and it's Championships and Programs, please visit PGA.com.