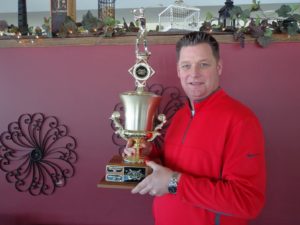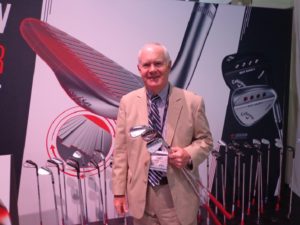 CHAD JOHANSEN holds the Blackberry Amateur trophy, soemthing you can do if you win the Blackberry Amateur on June 23-24, sign up today at Blackberryoaks.com. The tournament is sponsored by Wilson Golf and Michelob Ultra, #Fillthefield #weneed120. CALLAWAY WEDGE designer Roger Cleveland shows off the Mack Daddy wedges at the PGA Show in Orlando, for information see Callawaygolf.com #mackdaddywedges
CLICK HERE TO HEAR our interview with Roger Cleveland the designer of the Callaway Mack Daddy wedges.                                                                                           __________________________________________________________________
SAND VALLEY GOLF RESORT the latest and greatest golf project from Mike Keiser and family is no longer a secret, and now even more secrets are coming out for the 2018 golf season from SV land.
Some dates that everyone has been waiting for are now out, get your pencils and scorecards ready.
May 1st, The 17 hole par 3 course the Sandbox will open, designed by Bill Coore and Ben Crenshaw, the Sandbox is pure fun and is a course that you can play every hole with a putter. If you are a golf veteran, a junior golfer or looking to take up the game, the Sandbox is for you. bring your putter and a golf ball or two, you're all set.
On May 31st the highly anticipated Mammoth Dunes course by David McLay Kidd will fully open for play.
The resorts first course, Sand Valley designed by Crenshaw and Coore will be open at the start of the resorts golf season.
In 2017 Sand Valley opened to rave reviews by the golf media and public golfers alike.
Not since Bandon Dunes opened in Oregon has a new golf resort experienced the type of early positive feedback that Sand Valley. Due to the Keiser connection of both properties, Sand Valley is expected to be a continued success.
Just announced for 2018 at Sand Valley will be a intimate residential community , additional lodging, a new practice facility, expanded clubhouse with more dining space, and a grass tennis court complex during the season.
The Keiser family has made no secret that there is likely to be more golf courses built at Sand Valley, however at this time there is no timetable for when a third 18 hole course will be announced and or who the next architect might be.
CLICK HERE TO HEAR our interview with Mammoth Dunes designer David McLay Kidd.
CLICK HERE TO HEAR our interview with Sand Valley course designer Bill Coore, and his thoughts about the Par 3-Sandbox course at Sand Valley. Coore also discusses a project in Missouri with Bass Pro Shop owner Johnny Morris.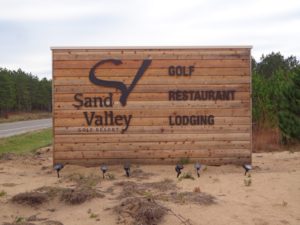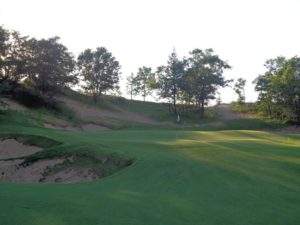 WELCOME TO SAND VALLEY GOLF RESORT, (R) the par 4, 9th green on the Sand Valley Course.
For information on the exciting year ahead at Sand Valley, visit Sandvalleygolf.com and do read the Sand Valley Magazine that is full of great information on the resort and what is happening there.