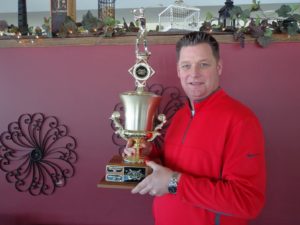 CHAD JOHANSEN Blackberry Oaks GM holds the Blackberry Amateur trophy, The Blackberry Amateur will be contested on June 23-24 and is sponsored by Wilson Golf and Michelob Ultra, sign up today at Blackberryoaks.com #Fillthefieldall120  McQ's DOME in Bolingbrook, the winter home for the Mistwood GC golf professionals, get a lesson or club fitting, play the horses in the OTB, eat & drink in the grill McqsDome.com  ______________________________________________________________________
WHAT A DAY FOR GOLF, call it a throwback day or something else, but the calendar year will be hard pressed to beat March 4th for a day that stands taller in the professional golf world.
First up, Michelle Wie her first win since the U.S. Women's Open at Pinehurst in 2014, and holing an off the green 62 foot putt for the win, amazing. Follow that up with "Lefty" Phil Mickelson's first win since the 2013 British Open and beating Justin Thomas in a playoff, and how about Steve Stricker earning his first win since the 2012 Tournament of Champions event at Kapalua, ( you thought I was going to say the John Deere Classic, nope that was 2009-2010-2011) and his first win on the Champions Tour. Something good for an Illini guy, and in case you missed it, fellow U of I alum Scott Langley is now fourth on the Web.com money list.
IF YOUR BETTING golf, and you wanted to bet Phil Mickelson as I did to win a major this year, the odds in Vegas last night went tumbling down on the left handed one. Your window for a getting great odds closed, about the time Justin Thomas missed his playoff putt after a stunning weekend come back, and nearly two wins in two weeks.
This week is the Valspar Championship at the famed Innisbrook Resort, north of Tampa and part of the Salamander Resort chain, one of the best in the world.
Innisbrook is home to four golf courses including the famed Copperhead Course home of this weeks tournament. It is a PGA Tour course you can play and well worth it, the PGA Tour players love it and since the recent renovation that included some needed tree work, new tees, greens and the famed white bunker sand, Copperhead is solid. The last three holes are known as the Snake Pit, more on that tomorrow. Recent winners at the Valspar include our local PGA Tour players NU's Luke Donald and Kevin Streelman from Winfield, the former Cantigny Golf employee. This should be a great week on the PGA Tour and watching golf.
IT'S CALLAWAY GOLF WEEK here at Golfers on Golf, after a great week of numbers on various professional tours, where Callaway staff players like Mickelson and Wie were winners, I'll take you into the emerging world of Callaway Golf, that is becoming a major force in golf, behind it's Rogue Line of Clubs, new Chrome Soft golf ball and it's putter line of Sean Toulon and Odyssey. Designer Roger Cleveland's Mack Daddy Wedges are pretty darn good as well.
Recently my interview with Callaway CEO Chip Brewer was posted here, now I move on to interviews with other Callaway movers and shakers from the PGA show. If you are ready to Go Rogue, try out the new Callaway club line at Cog Hill this weekend on Saturday from 11 Am to 2 Pm.
If you need to get fit for new clubs, it can be done at demo days, but I have to say that either the professional staff at the Mistwood GC/McQ's Dome, True Spec Golf in Highland Park, Mike Madakas and Elevation Golf in Willowbrook are the places to go. But if you wish to add the new TPT Golf Shafts in your clubs, that will require that you to make a visit a Club Champion store at one of it's locations in the Chicago area.
I AM STILL HOPING that the Lake Bluff Park District board will vote to keep it's golf course open past the 2018 golf season, please let them hear your voice before the vote is taken, likely at some point this month.
THE GOG BLOG RETURNS TOMORROW, RS.