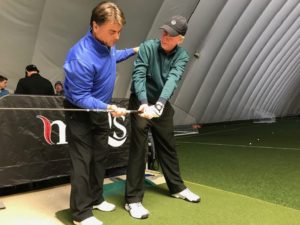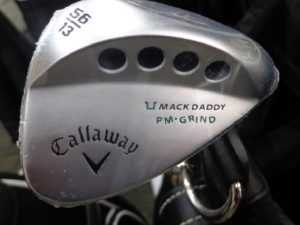 DAN PHILLIPS IS BACK teaching at Mistwood GC and McQ's Dome in Bolingbrook, for more information see MCQsDome.com, today is the Callaway Wedge Clinic at MCQ's, followed by Callaway Demo Day until 3 PM. THE NEW MACK DADDY Wedges by designer Roger Cleveland of Callaway, try them today at MCQ's Dome. #itsthegrind        ______________________________________________________________________
HE IS A MAN on the move and so is his company Callaway Golf. CEO Chip Brewer might tell you he is not a visionary, he will tell you he just surrounds himself with good people, but for someone who just a few years ago was working in Schaumburg Illinois, Brewer is now in California in the heart of golf club design and testing land.
Brewer has had an interesting road to the top spot of Callaway Golf, through other golf companie. But the road he has put Callaway Golf on is one that is not only good for Callaway, it's good for golf in general, and for you the golfer.
These days Brewer has a lot to be beaming about. The Callaway Epic Driver that came out last year, was so good and so well received, that it outsold every other driver in America last year, in every month of 2017.
In spite of it's numbers, that didn't stop Callaway from coming out with something better in 2018, ROGUE.
Rogue is not just a driver, it's fairway woods, it's irons, it's a solid full line of clubs. Put them with a series of Mack Daddy Wedges, and a Sean Toulon or Odyssey Putter, and you have a set of clubs that stacks up against anything on the market.
It was Brewer's approval of one of the most creative set of golf ads to ever hit the market, that got some people taking Callaway Golf a little more seriously. Who would have thought that a golf company would hook up with an aerospace company like Boeing. Yes, the airplane people. The end result was a driver that was more aero-dynamic than the golf world was used to seeing, it advanced club head speed to a new level.
The professional world of golf is aligning with Callaway, more staff players are coming on board like reigning Masters Champion Sergio Garcia who spent yesterday hanging out in the Callaway Corporate offices. Three of the top four rated amateurs coming out college this past year are wearing Callaway logo's, something not lost on Brewer.
Click here to hear our interview with Callaway CEO Chip Brewer, who breaks down his path to the top seat at Callaway, who he is, the Boeing relationship, the amount of tour professionals joining Callaway, the Callaway impact at this years PGA Merchandise Show, a growing golf company and market share, while going Rogue.
During times when some golf companies have gone stale, or are pulling back on their product lines, Callaway golf is expanding and growing, and Chip Brewer is "The force" behind that.