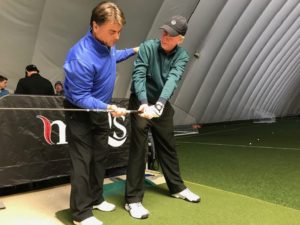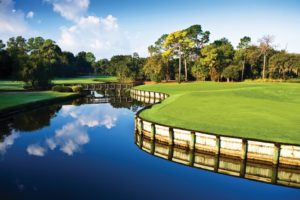 PRO DAN PHILLIPS is back at McQ's Dome, you should be too. Mcqsdome.com or call McQs at (630)-739-1592, part of Mistwood Golf, that has permanent tee times available for 2018, call (815)-254-3333. The North Course at Innisbrook has reopened from renovation and is taking tee times, visit Innisbrookgolfresort.com or call (888)-794-8627. ______________________________________________________________________
GOLF IS OFF and running in 2018, the Eskimo Open was played at Cog Hill yesterday on two courses and congrats to the winners.
Our BIG 3 Partner Tim Cronin was out at Cog Hill bright and early to speak with a few of the players, and will have a recap on his Illinoisgolfer.net in the short future.
The Chili Open will be played this coming Saturday at the triple Decker Range in Des Plaines, if you want to play in sunny 26 degree temps, but not in much snow it appears as the sun melts it's off over the course of the week.
I HAD a chance to visit Blackberry Oaks this past week and catch up with GM-Head Golf Professional and golf aid inventor Chad Johansen.
The good news is that the 8th Annual Blackberry Amateur is expected to be played on June 23-24. This year Johansen wants to push the size of the field up to at least 120 players.
Last year the number was just over 90 players and this great Midwest Amateur event should have a full field.
Sign up and details on sponsors should be out by the end of the month. Stay clicked in here or Blackberryoaks.com for more details. During the winter months Johansen is holding some short game clinics, and putting lessons are available in the putting lab of the pro shop at BBO's.
THE PGA TOUR is really underway with the Tournament of Champions being played at one of my favorite places Kapalua Maui. While Dustin Johnson appears to be back in form after an 8 shot win, there was some concerning news.
FIRST UP, the golf course. There was a few greens like 14 which were in bad shape, and a few things in paradise that did not look the best. I don't know what the resort might be planning going forward, but maybe a phone call to the designing architects Bill Coore and Ben Crenshaw might be a great idea. It would appear it's time for them to comeback and take a look at things.
SECOND, the distraction of the week was Tiger Woods announcing his first tournament of 2018 being at Torrey Pines. Then for some odd reason the media is falling back into it's dangerous old habits, of getting all Tiger, Tiger, Tiger again. Let's save it until he actually wins a tournament and focus on who is playing and winning, which is always what the top players are trying to do. ESPN can cancel the Tiger Tracker right now and do everyone a favor.
THE WHITE PINES GOLF DOME has a Titleist Fitting day this Thursday Jan. 11th from 12-5 PM, cost $20. Titleist Vokey scoring clinic on Thursday Feb. 8th from 6-7:30 PM, cost is $160 and includes ONE-2018 Vokey Wedge.
TAYLOR MADE will have a custom fitting event on Thursday Feb. 22 from 3-7 PM.
OTHER White Pines events include from Jan. 4-14 watch the PGA from Hawaii at the dome, and enter your email to win a Titleist wedge. TARGET TUESDAY'S, hit the Tuesday target and win a pair of Foot-Joy golf shoes. More promotions include Foursome Pizza night, Blackhawks game specials, and Swinging to the Oldies. Come out to White Pines Golf Dome and check out the specials. Whitepinesgolfdome.com
KEMPERSPORTSMANAGEMENT has announced they are working with the City of Round Rock Texas, to help renovate the Forest Creek Golf Club, located on the East Side of Round Rock, Texas. No architect has been named but the $5.1 million dollar renovation includes the rebuilding of all 18 greens, the creation of a 19th hole. The practice range and facilities will be redone, along with all the bunkers on the golf course. There will be improved drainage, irrigation and replacements of bridges and other structures. Tree removal is part of the renovation. For more information please visit wwwForestCreek.com.
aBOUTGOLF the creators of the PGA Tour simulator and the new 1400 series technology that enhances graphics and more, will have a presence at the Consumer Electronics show and the PGA Merchandise show. aBOUTGOLF is proud to announce that in 2018 that four courses at Kohler will now be available for play. More information at aboutgolf.com
Antigua apparel has announced that is has created a new style, modern day booth for the PGA Merchandise show coming up in Orlando from Jan. 23-26.
In addition the company has announced it's team of brand ambassadors for 2018 on the professional golf tours.
LPGA players include, Brittany Lang, Stacy Lewis, Gerina Piller, Lizette Salas, Austin Ernest, Alena Sharp, Candie Kung and Kim Kaufman. On the PGA Tour, Brian Stuard, and Ryan Armour. On the Champions Tour, Tom Pernice Jr., Steve Pate,Billy Mayfair and Jerry Smith. For more on Antigua apparel see Antigua.com.
The Gog Blog Returns tomorrow. RS