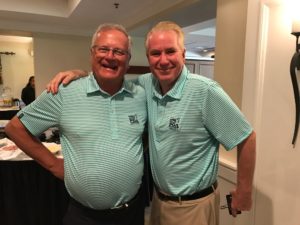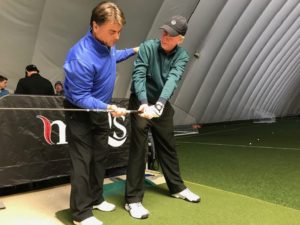 TWO PEA'S IN A POD-CAST THAT IT IS, Part 2 a preview of 2018 coming up in the week ahead with Len Ziehm. McQ's Dome in Bolingbrook is your place for winter golf, great food and horse race action the OTB. For more information visit McQsdome.com    _____________________________________________________________________
BREAKING NEWS Masters Champion Sergio Garcia leaves Taylor Made and joins Callaway Golf. Other 2018 news, The Eskimo Open this coming Sunday Jan. 7 at Cog Hill, tee times start at 7Am, call (866)-COH-HILL to sign up. You can now sign up for Illinois Patriot Golf Day May 30th at Medinah CC. Illinoispatriot.org.
HAPPY NEW YEAR and 2018, Lets hope it stays that way.
As I head into 2018, I can't close out 2017 without saying thanks to our listeners on Golfers on Golf Radio, AM 750 WNDZ at 9 Am on Saturdays from April to September. To our growing number of readers on Golfersongolf.com we thank you for another great season, and hope you will stay with us in the years ahead.
As for our sponsors. Starting back in the winters months of 2017, special thanks to the Schaumburg Golf Club, McQ's Dome in Bolingbrook and the Tinley Park Golf Show.
As for the summer months and the radio show, it starts with the French Lick Resort our presenting sponsor from Frecnh Lick Indiana. Mistwood Golf Club in Romeoville. The Mt. Prospect Golf Club in Mt. Prospect, the Arlington Lakes Golf Club in Arlington Heights, the NCAA Championships and Rich Harvest Farms, the KPMG Championship at Olympia Fields, The City of Elgin Golf Courses Bowes Creek and Highlands of Elgin, the Wheaton Park District and Arrowhead Golf Club, the Erin Hills Golf Club home of the 2017 US Open, DuPage Golf and the DuPage Country Forest Preserve District. We look forward to your support again in 2018.
As for the year ahead. I start off by saying it will be interesting to see who Medinah hires to replace Curtis Tyrrell their Director of Grounds who has left for the Bonita Bay Club in Naples Florida. Tyrrell who was rumored to be leaving right after the Ryder Cup in 2012, has left big shoes to fill. Three of the recent major superintendent hires in town, have all been from clubs like Merion and the Philadelphia Cricket Club out east. The new Director of Grounds at MCC will have about 16-17 months to get Course #3 ready for the BMW Championship, and Medinah's first return to the big stage or professional tournament golf in 7 years.
Len Ziehm and I will do Part 2 of our Two Pea's in a Pod-Cast that is, series later this week, stay clicked in as we preview the 2018 golf season ahead of us.
Tim Cronin has put out his 2017 season finale at Illinoisgolfer.net. Tim recaps the long life and contributions of the late Carol McCue who just passed away at age 94. She will be missed by many.
WHAT I DO have in the "must get out bin" is a few things from Titleist and from the Pinehurst resort. Do stay clicked in for those items and before long I expect to hear from Callaway Golf on what they will bring to the golf industry in 2018.
THE GOOD FOLKS at McQ's Dome in Bolingbrook are working to get the new TPT Golf Shaft I was sent from across the pond ready for testing. TPT is a newer shaft about ready to make it's debut in the states, some top name touring pro's have already won with it oversea's.
THE AREA GOLF SHOW'S will be here before you know it. Tinley Park, Lake County and the Chicago Show in Rosemont, three straight weekends next month. More coming up right here on those shows in the weeks ahead.
I AM looking forward to tournament season here. Including two new events that include the U.S. Sr. Women's Open at the Chicago Golf Club, and the Sr. Players Championship at Exmoor. I am not pleased that those two events are the same week along with John Deere, and are all being played from July 9-15.
THE WOMEN'S WESTERN Amateur Championship at Mistwood, tee's off the same week as the KPMG Women's PGA Championship at Kemper Lakes, in the last week of June.
THERE IS NO REASON to get overly pumped about Tiger coming back in 2018, Jack Nicklaus, Greg Norman and Golf Channel host Brandel Chamblee, are among major golf names who have downplayed the 12th or 13th attempted comeback by Woods. If he plays well, then fine. #GOAT he is not, and never will be. Woods has fired his latest coach and for now is his own coach, good luck.
I WILL HAVE MORE from St. Louis based architect Art Schaupeter, on his new course that will open in August of 2018, TPC Colorado. Locally Schaupeter is known for his work as an assistant to Keith Foster at Shepherd's Crook, and taking over a Foster project at the Highlands of Elgin, and now as a member of Greg Martin's Team on the Preserve at Oak Meadows project. This club will go private at some point, might be worth a play while the public can jump on. TPC Colorado will host a Web.com event in 2019.
It's cold outside, but the domes are open. Go hit it, the New Year is here. RS