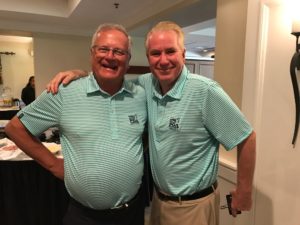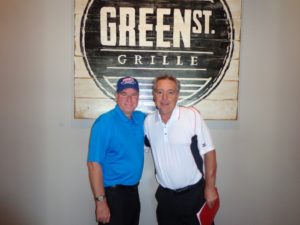 TWO PEA'S IN A POD- Cast that it is. Len Ziehm and yours truly preview the 2018 Chicago area golf season ahead of us, Coming tomorrow to Golfersongolf.com. With Mike Munro at the Green Street Grille in Bensenville, stop in and check out this new diner in downtown Bensenville run by Golf Guys. Greenstreetgrill.com #GolfChannelon. ______________________________________________________________________  THE GOG BLOG with Director of Content Rory Spears. Follow Rory on Twitter @GogBlogGuy, Linkedin and Facebook and to the new TPC Colorado this summer.
ART SCHAUPETER  is known to Chicago area golfers for his work around town on a few major public courses. First as an assistant to Keith Foster at Shepherd's Crook in Zion, then at the Highlands of Elgin in Elgin, and now as a member of Greg Martin's team at The Preserve at Oak Meadows in Addison. But in 2018 the latest from Schaupeter is TPC-Colorado, about 45 minutes from the Denver airport in Colorado. Public play will happen for a while, until all the memberships get sold, and they are going quickly. The course that opens officially about August 1st, is now scheduled for a Web.com event in 2019.
Schaupeter says he first saw the site over 10 years ago, but the project based on the economy had been on and off the burner.
But a few years back when the home sales picked up surrounding the Denver area, the course went back into a phase of moving forward.
Schaupeter says that Chicago area golfers that have enjoyed the Highlands of Elgin will enjoy TPC Colorado. At HOE, Schaupeter created a routing around the quarry, and the quarry holes have been popular with golfers. That type of experience will be the same on a grander scale at TPC Colorado.
While water will be in site on many of the holes, it will only come into play on three of them.
Tree's for those of you that don't like them, will only be on one hole of the golf course.
The Colorado elevation will have your golf ball flying much further than around Chicago, which is why one of the Par 5 holes will play at 773 yards from the back tees. Overall back yardage will total over 7,900 yards.
Click here to hear architect Art Schaupeter talk about the new TPC-Colorado.
The golf course will have wide fairways, so the main challenges that golfers will have are the bunkers that include over 30 Sodwall bunkers. The course has 55 acres of fairway, up from the norm of 25-35 acres. The normal 40 yard wide fairways will be increased to between 60-70 yards.
TPC Colorado is the first new TPC course in the network in 7 years, and the first ground up new construction in 10 years, in the state of Colorado. For more details see TPCColorado.com