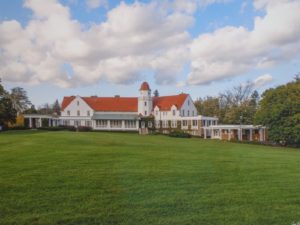 THE CHICAGO GOLF CLUB home of the inaugural U.S. Sr. Women's Open coming in July of 2018, volunteer sign up now underway, visit USGA.org. CALLAWAY EPIC RED Driver now available for a limited time only, for more information see CallawayGolf.com.  ______________________________________________________________________
A few weeks back I declared it Golf Dome season, but no sooner than I posted that, Mother Nature created a 10-11 day window of temps in the 50's and 60's.
Outdoor golf season was back on again, as the remaining open public courses started drawing 60-85 die-hard golfers a day. The amount of daylight hours per day are limited, but golfers came out. There are deals galore and the novelty of playing golf after Thanksgiving or into December are pretty cool, (pun very much intended).
While this little window to hit it one more time outside was fun, at the end of last week it really became apparent that the window was closing on Monday once and for all. If you listened to the weather reports, everyone from WGN's Tom Skilling to all the other weather guys and gals made it clear, Monday in the 60's and Tuesday high's around freezing (32). Lock and load it's was time to go one more time.
I arrived at Maple Meadows about 9 AM ready to go, I got out of my car and the wind had already picked up. But it was still pretty warm out, actually 65 when I teed off about 9:10. It was 67 degrees when I came in, I wish my score had been 67, but it wasn't to be as the winds blew many of my tee shots and approaches off line. My new Callaway Epic Driver which has been the key the last six months in hitting fairways, could only manage eight fairways (my average is about 10-11 since the switch to Epic). I took the six pars including par's on 17-18 and called it an outdoor season.
The good thing about real late fall or early winter season golf, is that it normally moves quickly. I played 18 holes as a single in 2 hours and 45 minutes.
Even though the sun popped out a few times for a quick couple of minutes, it didn't stay long. It seemed to send the message that the season was ending. The few other golfers I did see ahead or behind me, seemed to be playing quickly, like they knew it was a game of "Beat the Clock" and the last grains of sand were running out of the shaped hour-glass.
When I drove to the Par 5, 1st hole at Maple Meadows there were no cups or small flags in the putting green, there were no tee markers on the tee boxes. They were packed away for the winter ahead, and only the flags in the green remained. The water coolers, and garbage cans were gone, missing along with the Porta-potties. The course workers were spraying, sanding and covering the tee's trying to finish what they could.
When I came off the third green, it's not hard to look across the street at the now award winning Preserve at Oak Meadows. The Preserve had already been closed for some five weeks after it's shortened preview season. It really doesn't seem like some five months had passed since Ed Stevenson the Ex. Director of the DuPage County Forest Preserve District and my radio partner on Golfers on Golf Radio announced, the Preserve would open for a few months this year to give golfers a sneak-peak at the new look public golf course. In 2018 The Preserve will have it's official Grand Opening season.
The Par 3, ninth hole is the thrill of the day. As my six-Iron from 168 just misses finding the cup for my second career ace, that possibility will now have to wait for another year. Of course that four foot birdie doesn't go in either off the Sidehill-downhill lie to a wicked pin placement. Or maybe it's just the evener-upper after my 32 footer dropped on the fifth hole for a nice par.
The back nine see's a bad 3-putt double bogey on the Par 5, 11th hole. The double is a downer and then you realize it's the last Par 5 you will see this year, UGH. As you stand on the 12th hole, you tell yourself your running out of holes for 2017, make the best of what's left.
You take a moment after the 14th hole to look around, the sun is trying to break through as if to say hey it's golf season again. But you see only a few golfers on the holes ahead and behind and you start to think, what happened to the 2017 golf season, and all the tournaments we looked forward to attending or in my case working. On the 15th tee box a tough 468 yard Par 4, it's overcast again but it doesn't feel like holiday season. There is no sign of Christmas lights or decorations, it feels more like Thanksgiving is two weeks away, and it's hard to think that in 48 hours you will be at Woodfield Mall to wrap up your holiday shopping.
After missing a 12 foot par putt on the Par 3, 16th, you wonder how the season will end.
You hit a great drive on 17, but pull the approach. A nice chip over the corner of a bunker leaves you two feet for a par that you easily make. Fortunately 18 is a replay of 17, solid drive in the fairway and an approach that finds the green. A 35 foot birdie runs a foot past the cup but you tap it in to call it a season. As you drive your cart back into the clubhouse, the sun comes out and there are four golfers getting into carts ready to head to the first tee box.
One of them announces, golf in December isn't this great. You admit it is, and think for a second about another 18 holes. Then you think about making par on 17&18 and you know it's time to quit while ahead.
As you put your clubs in the trunk it sinks in that the 2017 golf season is over. You enter the clubhouse to return the cart key and staffers are setting up for a Christmas party that night and, "It's the most Wonderful Time of the Year" is playing.
Chicago area outdoor golf in December is wonderful, I have only done it five times. The first time was 10 years ago at Fresh Meadow with my former pro the late Bob Held. We tee'd off at 12:15 on December first with the temperature at 66 degrees. On 15 it dropped quickly and was down to about 53, and then only 46-47 by the 18th tee box.
After putting out on 18, it was great feeling, golf in December in Chicago, wow. Bob and I had a quick drink and I left the course 30 minutes after putting out, one mile down the road the snow started falling and 1-2 inches of snow had fallen by the time I got home. That was cutting it close.
When I got up yesterday I knew there was time for one more round, and I got it done. Here's hoping your final round of 2017 ended the way you wanted it to. If not, it really is  golf dome season and time to consider lessons, new clubs after a fitting or both. The 2018 season will be here before you know it. It's only one month until the Eskimo Open at Cog Hill and St. Andrews. The short course at the triple-deck range in Des Plaines is having a Chili-Open that same weekend in January.
Yes, you will be outside again before you know it. I for one, can't wait for Florida in January. Until then, see you in the golf domes. RS