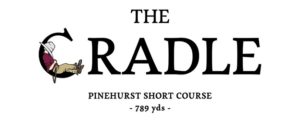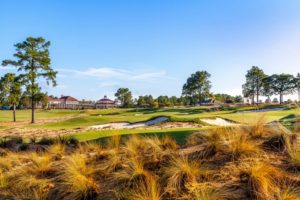 THE CRADLE AT PINEHURST this Par 3 course rocks. Work on Pinehurst #4 by Gil Hanse has now started, what's happening at Pinehurst, Go visit Pinehurst.com #Ross.    ______________________________________________________________________
The town of Pinehurst is in the news again, but this time it's not for what is happening at the Pinehurst Resort, which is a place where plenty is going on.
Now just a couple of miles away, comes word that things are moving again at the Dormie Club. The Dormie Club started to come into the news about 6 years ago, as a new sandhills project under the design of architects Bill Coore and Ben Crenshaw.
The Dormie Club has been purchased by the Nebraska-based golf investment company of Hainoa, LLC, making it the latest addition to the Dormie Network-a network of destination clubs.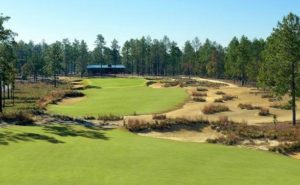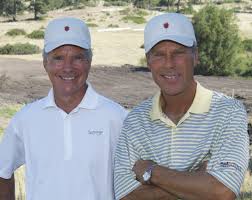 THE 18TH HOLE at the Pinehurst based Dormie Club, designed by Bill Coore and Ben Crenshaw (R).
With the purchase of the club, there will renovations starting quickly on the property that include a new clubhouse, halfway house, and on-site lodging. In time Dormie Club is expected to return to it's original plan of being a private club by the year 2020.
The club is a short drive from downtown Pinehurst, the Home of American Golf. It sits back among the tall pines and gives golfers a secluded round of play. Dormie Club has elevation change of over 110 feet through out the course. It includes three natural lakes including the breath-taking 55 acre Coles Mill Lake that is over 100 years old.
Some of the design created by Coore and Crenshaw includes reachable par-fours, bunkers that make the player create a strategic route to the green, and a 241 yard reverse-Redan par three.
The Dormie Club has five sets of tee's and plays 6,883 yards from the back tees, and carries a rating of 73.7 and Slope of 138. It is rated by multiple national golf publications as one of the best courses in North Carolina.
"Dormie Club is a truly exceptional club that was conceptualized as is designed to be a high-end private course," says Zach Peed of Dormie Network. "Our vision is to make it one of the finest pure golf destination courses in the region."
With Dormie Club joining the Dormie Network, it joins clubs such as Briggs Ranch in San Antonio, Arbor Links in Nebraska City and Bally Hack in Roanoke.
The course was designed with the Coore and Crenshaw Philosophy of traditional Strategic Golf Design.
For more information visit Dormieclub.com.