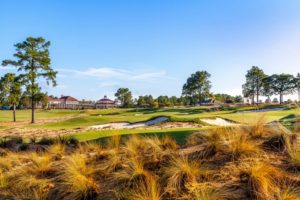 NO SNOW at the CRADLE in Pinehurst. The par 3 course is open, see Pinehurst.com. Need new clubs, it's time for a fitting, go to Highland Park and or visit TrueSpecgolf.com ______________________________________________________________________
In 2018 the KPMG Women's PGA Championship will be held at the Kemper Lakes Golf Club in Kildeer, after a successful week at Olympia Fields last June.
Tournament week in 2018 is June 26 through July 1st.
This week the PGA of America has named Jacquelyn Endsley as Championship Director for this coming years championship.
Endsley previously served as the championship manager at the 2015 U.S. Women's Open at Lancaster Country Club in Pennsylvania. The 2015 U.S. Women's Open was the most attended women's open in history.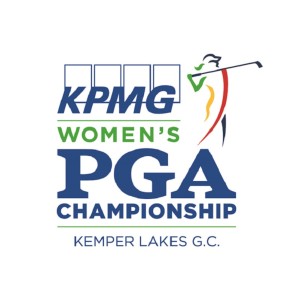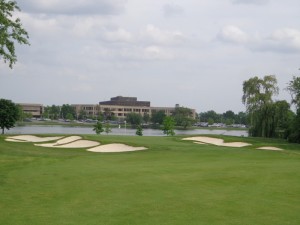 KEMPER LAKES IN KILDEER  will host the 2018 KPMG Championship. Above the famed par 5, 15th hole.
Endsley a native of Kohler Wisconsin, spent three years with the NCAA working in corporate relations, marketing and broadcasting. Endsley also spent time with the KemperSports management team, Harborside International, the Milwaukee Bucks of the NBA and Kohler Company.
"We're very excited to welcome Jacquelyn to the PGA of America," said Kerry Haigh, Chief Championships Officer of the PGA of America. "Jacquelyn has a wealth of previous championship experience, but we also were drawn to her ability to connect with a wide range of people to grow the collaboration between the PGA, KPMG and the LPGA."
The KPMG Women's PGA Championship is a collaboration between KPMG, the PGA of America, and the LPGA, it combines a world class, annual golf champion at a major level, while providing a forum for KPMG's Women's Leadership summit and the KPMG Future leaders program, that looks to grow women in the business world in the years ahead.
Danielle Kang who won the championship this year at Olympia Fields, is expected to defend her title. A majority of the top players on the LPGA Tour and Women;s golf are expected to compete at Kemper Lakes.
For more information about the 2018 championship, please visit KPMGWomensPGA.com. Kemper Lakes is the former home of many statewide and national golf championships, the most famous was the 1989 PGA Championship won by the late Payne Stewart.
Volunteer and ticket opportunities are now available for the championship. For more information on the championship stay clicked into this website.